What Your Guy Thinks When You Shop
Last Updated on August 28, 2020 by Paula
Who among you ever brought a guy along to one of your shopping sprees? Keep this in mind.  What he says and what he thinks are usually two different things!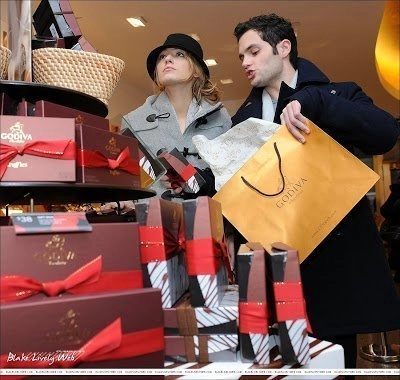 Scene 1: CHOOSING TO SHOP

YOU:  I think I'd like to shop today. You in?
HIM:  *pause* *looks away* mutters "Sure thing."
HE THINKS:  No, I did not just hear that. NOOO!  I need to think of an excuse! FAST! (Is that my stomach grumbling?)
TIP: Believe me.  Guys detest shopping.  Warm him up to the idea by asking him what he wants to do afterwards: watch a movie, play some ball, eat, watch TV or play a video game.  Anything that interests him.
Scene 2:  CHOOSING THE STORE TO VISIT
YOU:  Hmm, what store do you think we should hit first?
HE SAYS: *looks around* There are err, lots of stores…We have a lot of choices, that's for sure.
HE THINKS: Please pick one with a couch, please pick one with a couch, please pick one with-YES, this store!
Scene 3:  CHOOSING THE ITEM
YOU: Do you think I really need a new dress?
HE SAYS:  I think you look great in what you usually wear, but it's up to you.
HE THINKS: I mean it!  Yo look great already.  Now let's do something else.  Please?  I am starving!  Oh, who am I kidding? *sighs*
Scene 4:  CHOOSING THE DRESS (OR TOP, OR SKIRT)
YOU: Which one looks better: this one or this one?
HE SAYS: The peach one looks good on you.  It makes your face glow!
HE THINKS:  I have no idea what I just said, but I think it was something very nice because she is smiling right now.  *virtual pat on the back*
TIP: Asking more specific questions will make things a lot easier for him.  Just don't be too specific-something like "Isn't this dress so last season?" is plain gibberish to most guys.
SCENE 5:  CHOOSING TO GUILT-TRIP YOURSELF
YOU: I think I'm buying something I don't need again.
HE SAYS: *looks away*
HE THINKS:  *plays an epic video game in his head*
TIP: Skip this stage as much as possible.  He doesn't say anything because he doesn't want to start an argument.  He knows there's no safe response to this.
SCENE 6:  CHOOSING TO REPEAT SCENES 2 TO 5
YOU: Do you think we forgot anything? Anything at all?
HE SAYS:  I think you mentioned something about shoes earlier.
HE THINKS: Sometimes, I hate myself for being too nice.  Here we go again.
TIP: If he looks away, pauses before responding, or gives you an unsure smile, then he's probably just being nice.  But the truth is, he is already tired and wants to call it a day.
Scene 7:  CHOOSING TO STOP (FOR NOW)
YOU:  I'm so happy I got to score so much cute stuff today! I feel so accomplished.
HE SAYS: Yeah, you really got a lot of new things.
HE THINKS: No kidding.  I think we can fill up an entire store with all the stuff you bought.  Oh well, I still think you're adorable.But how did I get this blister on my feet? Is it time for dinner?  I want a burger.
TIP: Don't forget to say thank you!