Note: At no cost to YOU, I use affiliate links in my posts to generate income.


Learn how this blog makes money

And how YOU can do it, too!
I've been struggling with dry skin on my face for as long as I can remember.
And even though I've tried every cream and potion out there, none of them have managed to get rid of them completely.
So when I heard about the Kahi Wrinkle Bounce Multi Balm ("saw it" must probably more apt because I see it in practically all k-dramas I have been bingeing on), I was intrigued.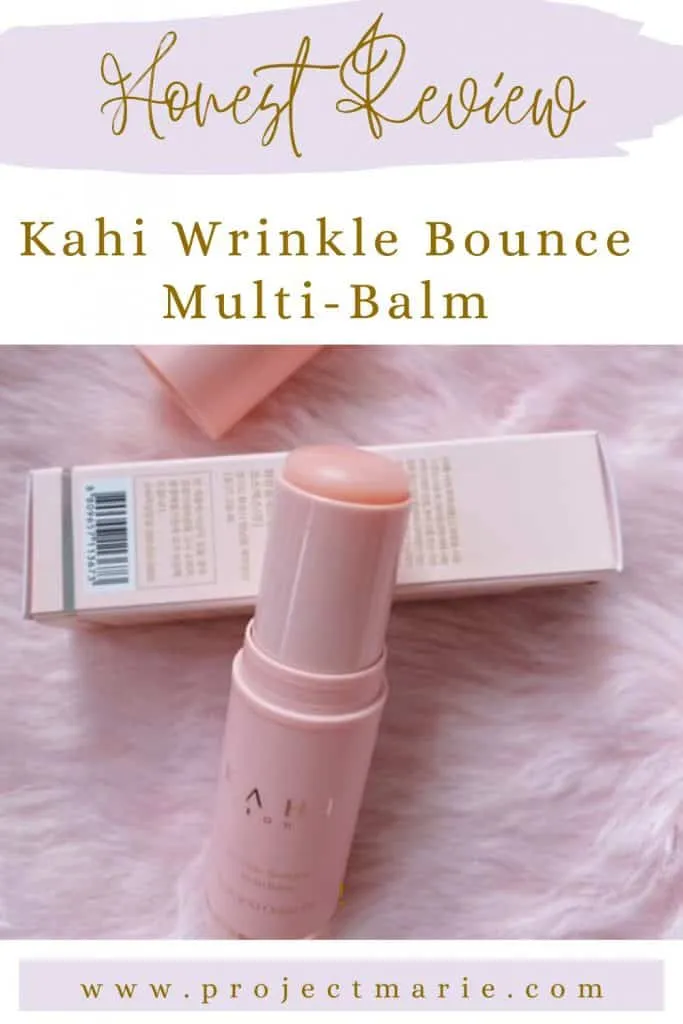 Do you have dry, no glow, sometimes red (like me) facial skin?
Kahi Wrinkle Bounce Multi Balm claims to be a unique product that not only moisturizes your skin but also helps to get rid of those wrinkles that you think you should not be having if you're still way into your early 20s. It's a two-in-one solution that you won't find anywhere else.
With this balm, it promises that you'll be able to achieve clear, healthy skin without having to spend a fortune on other products. And it's so easy to use – apply it anytime and the ingredients work their magic.
Hmm, really? Let's check it it lives up to its promise!
A beauty balm stick?
IKR? I have used serums, creams, gels, but this is so strange to me…a stick that claims to do what serums, moisturizers, and creams can do! Like, hey, do I still need to do my 10-step Korean Glass Skin routine?
Bingeing on K-Dramas made me buy this Kahi Wrinkle bounce Balm
If you have been binge-watching on Korean dramas, I am so sure you have seen Kim Go Eun use it in The King: Eternal Monarch and lately, it has been heavily featured in almost all k-dramas like Taxi Driver, Military Prosecutor Doberman, Business Proposal, Extraordinary Atty Woo, among others that I have to get it, too! Because.
I was a little hesitant at first, because I wasn't sure how a moisturizing stick would work on my dry skin. But after using it for a month, I was really impressed with the results. My skin felt softer and smoother, and the wrinkles around my eyes which I might have gotten by watching k-dramas when I am supposed to be sleeping had faded significantly. Plus, it's really handy and easy to use, which is great for on-the-go.
(This post contains affiliate links, which means I receive a certain percentage of a sale if you purchase after clicking at no cost to you. Thank you for your support.)
Who is Kahi?
Kahi debuted in 2020 as a Korean skincare company and has quickly become one of the most popular beauty brands in Korea. KAHI is derived from the Hangul alphabet's first and last letters. The company follows the belief that "beauty with skincare" is possible and provides customers products to help them achieve this goal. They develop skincare products with a fuss-free attitude, so you can have a simpler life-or at least a less complicated skincare routine.
How much does Kahi Wrinkle Bounce Multi Balm cost?
The Kahi Wrinkle Bounce Multi Balm is priced at $30.11, which is a little on the expensive side, but the results are worth it. You can get it at Amazon, Stylevana, and YesStyle.
What is Kahi Wrinkle Bounce Multi Balm?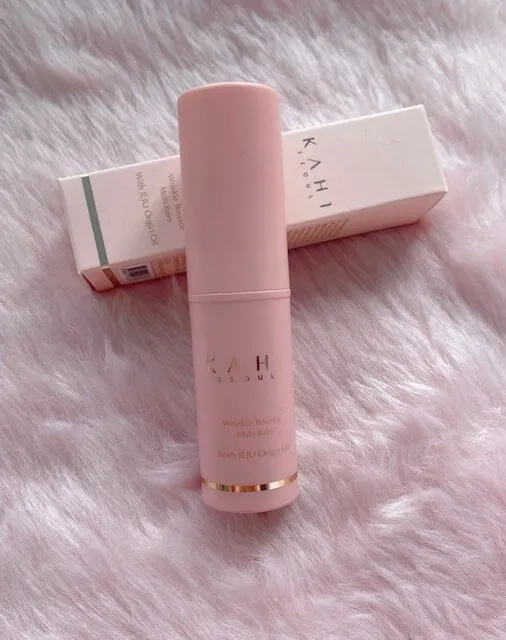 What is it made of: salmon collagen and fermented oil from Jeju plus a variety of plant extracts and antioxidants.
What it promises: The balm is supposed to diminish the appearance of fine lines and wrinkles, and it can be used on your face, neck, hands, or anywhere else you're concerned about. The idea is to encourage collagen production and improve skin suppleness with this product.
Technology it uses: Kahi's patented Filmexel technology produces a seaweed biofilm that shields the skin from harmful outside elements, while the balm creates a moisture barrier for long-lasting hydration.
It went viral and everyone (including moi) wants to have one: By 2021, searches for this product on Google had increased from 100,000 to 12 million in just a year, with the CEO telling us in February 2022 that they'd sold over 10 million Kahi balms. Wow.
Features
Improve face texture
The Kahi Wrinkle Bounce Multi Balm is a skin care product that is designed to improve the texture of your face. It contains a lot of helpful ingredients that work together to make your skin softer and smoother.
Enhance skin elasticity
This product also contains ingredients that help to enhance the elasticity of your skin. This is important because it helps to keep your skin looking youthful and prevents wrinkles from forming.
Natural glow
The Wrinkle Bounce Multi Balm also gives your skin a natural glow.
Dryness treatment
This product is also great for treating dryness. Its ingredients work hand in hand to help to lock in moisture and prevent your skin from becoming dry and flaky.
Prevent moisture evaporation
The Kahi Wrinkle Bounce Multi Balm also helps to prevent moisture from evaporating from your skin. This is important because it helps to keep your skin hydrated and prevents dryness.
First Impressions
For my Kahi Wrinkle Multibalm, I got it from Shopee PH. It cost around P1,200.00 (I bought it on a payday sale and with additional vouchers. The product arrived a little over two weeks after because it was shipped from South Korea.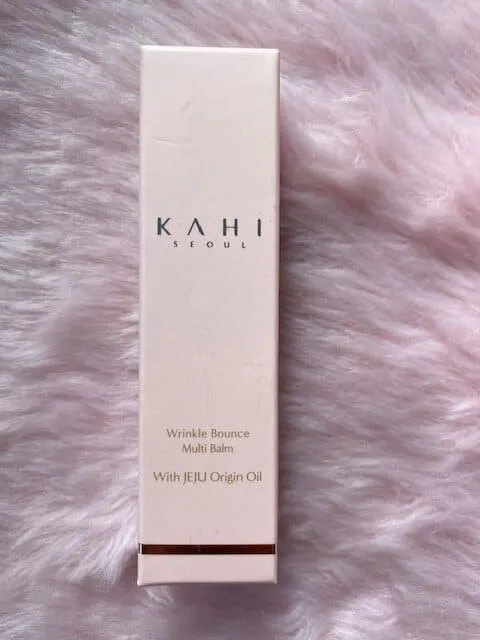 I've been using Kahi Wrinkle Bounce Multi Balm for a few weeks now, and I have to say that I'm kind of torn on it. The balm itself is really sticky, like petroleum jelly, I swear, when you first put it on, but then it seems to absorb into the skin after awhile. I'm not sure if I like the feel of it being so sticky at first, but hopefully the absorption will mean that it lasts all day long. Either way, the glow this balm gives my skin is amazing and instantaneous! In additional, I am really banking on its promise that it is good with wrinkles.
Thoughts on Using Kahi Wrinkle Bounce Multi Balm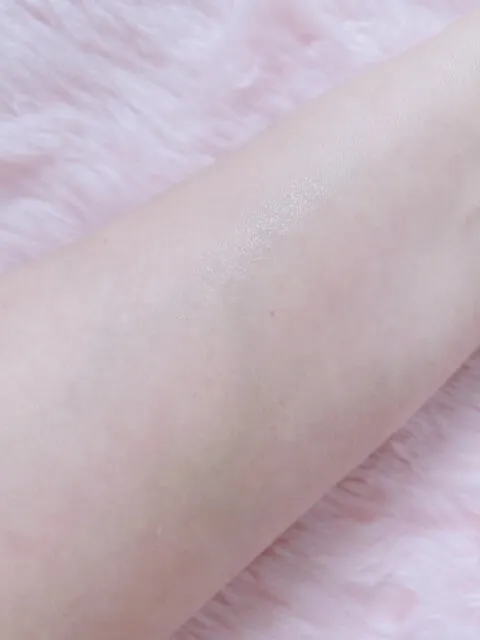 The stick is very lightweight and easy to use. I usually use it at night because I don't really like that it is kind of sticky. After washing my face and doing my usual night routine, I just glide it on areas that I feel are dry – around my mouth, on the sides of my nose, and on my forehead. It gets absorbed after awhile, and when I wake up, my face does not feel dry at all.
The reason why I don't use it as much in the mornings is that it is kind of greasy and takes a while to get absorbed by the skin. Sometimes, it really messes up with my finishing powder. I would probably be using it more during the colder months.
My Results/Verdict:
Okay, so far so good. Let's see if it does anything for my wrinkles.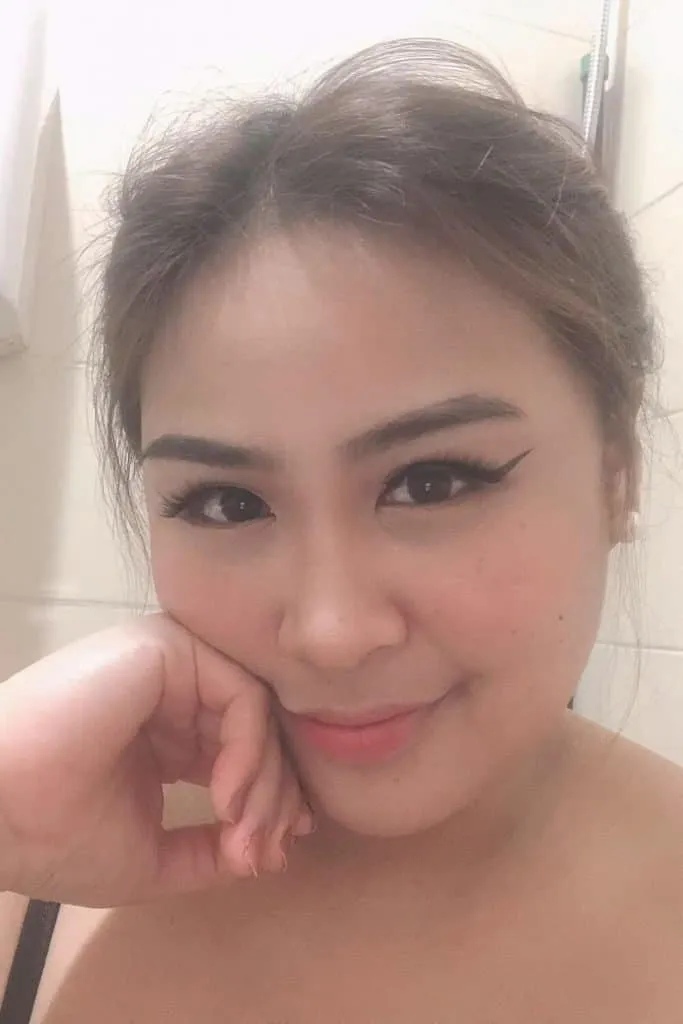 After using the Kahi Wrinkle Bounce Multi Balm for a month, I can say that it definitely helps to moisturize my skin and makes it feel softer. As for the wrinkles, I'm not sure if they've completely disappeared, but they do look less noticeable. So I guess it's safe to say that this product does what it claims to do.
By the way, having good skin also depends on what you put inside your body. These smoothies will definitely help you get your coveted glass skin!
Overall, I'm quite satisfied with the Kahi Wrinkle Bounce Multi Balm. It's convenient, easy to use, and effective. If you're looking for a quick fix for your dry skin, then this is definitely worth checking out.
Overall verdict: definitely worth a try!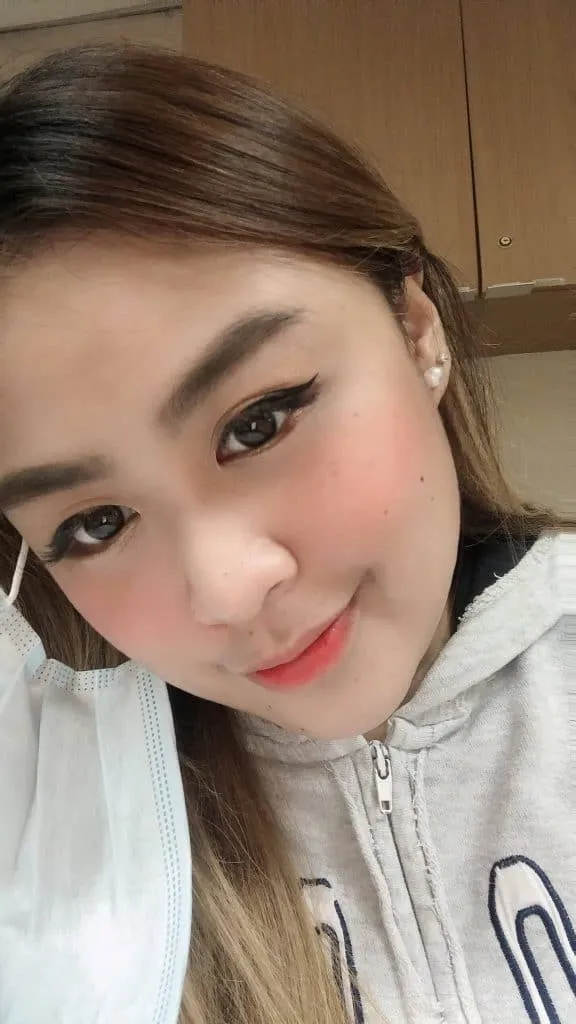 Pros:
Improves skin texture
Enhances skin elasticity
Gives skin a natural glow
Treats dryness
Prevents moisture evaporation
Cons:
A little pricey
Sticky !
May not be good for you guys with oily skin
I used it around my nose (I know I should not have!) and ended up with milia
In conclusion, the Kahi Wrinkle Bounce Multi Balm is a great product that can help to improve the texture of your skin and give it a natural glow. It is also effective in treating dryness and preventing moisture from evaporating. However, it is a little pricey and sticky. If you can get past these two drawbacks, then I would definitely recommend this product.
My rating: 4/5 stars
FAQ
How do you use Kahi wrinkle bounce multi balm?
You can use Kahi as a last step skin care. Apply it on your face and on any dry skin areas. You can use it before or after makeup. Rub the stick on areas that need radiance and moisture.
What are the ingredients?
Adenosine, Salmon, PDRN, Proteoglycan and Jeju Island fermented oil.
Sunflower Seed Oil, Polyglyceryl-2 Triisostearate, Candelilla Wax, Shea Butter Sweet Almond Oil, Pyrus Malus (Apple) Seed Oil, Octyldodecanol, Microcrystalline Wax, Eclipta Prostrata Extract, Melia Azadirachta Leaf Extract, Oil Soluble Licorice(Glycyrrhiza) Extract, Moringa Oleifera Seed Oil, Candida/Garcinia Cambogia Ferment, Oryza Sativa (Rice) Germ Oil, Schizandra Chinensis Fruit Extract, Curcuma Longa (Turmeric) Root Extract, Lithospermum Erythrorhizon Root Extract, Canola Oil, Caesalpinia Spinosa Fruit Extract, Chlorella Vulgaris Extract, Kappaphycus Alvarezii Extract, Carrot Seed Oil, Hydrolyzed Collagen, Althaea Rosea Flower Extract, Daucus Carota Sativa (Carrot) Root Extract, Tocopherol, Adenosine, Purified Water, Butylene Glycol, 1,2-hexanediol, Beta-carotene, Tocopheryl Acetate, Ethylhexylglycerin, Soluble Proteoglycan, Sodium DNA, BHT, Fragrance, Benzyl Salicylate, Benzyl Benzoate, Butylphenyl Methylpropional, Hexyl Cinnamal, Hydroxycitronelal, Citronellol, Alpha-Isomethyl Ionone, Gardenia Florida Fruit Extract
Is this good for sensitive skin?
Yes, the Wrinkle Bounce Multi Balm is good for sensitive skin. It contains a lot of helpful ingredients that work together to make your skin softer and smoother.
What kind of scent does it have and is it strong?
It has no scent.
How long does it take for Kahi Wrinkle Bounce Multi Balm to work?
Some people see results after using the balm for a few weeks, while others may need to use it for a longer period of time to see results.
Is Kahi Wrinkle Bounce Multi Balm suitable for all skin types?
The balm is suitable for all skin types. However, if your skin is kind of oily, I think this product won't be good for you.
How often should I use Kahi Wrinkle Bounce Multi Balm?
You can use the balm as often as you like. Some people use it once a day, while others may use it multiple times per day.
Does Kahi Wrinkle Bounce Multi Balm have any side effects?
There are no known side effects associated with using this balm. However, if you experience any irritation or other adverse reaction, you should discontinue use and consult a doctor.
Where can I buy Kahi Wrinkle Bounce Multi Balm?
You can purchase the balm on the official website or from authorized retailers.
How much does Kahi Wrinkle Bounce Multi Balm cost?
The price of the balm varies depending on where you purchase it. However, it is generally affordable and typically costs around $30.00.