Achieve Your Korean Glass Skin – in Four Easy Steps-using this Glass Skin Discovery Kit
Last Updated on June 2, 2021 by Paula
Are you also into Korean beauty skin care products like me?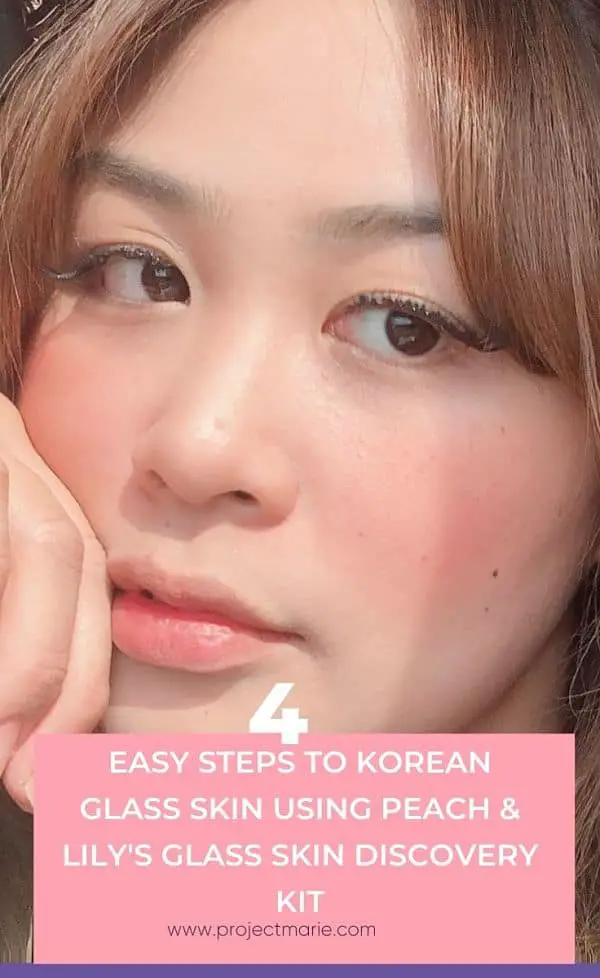 I have been into them (so deep) since like when I was in my early teens.  Back then, I would sneak into my mom's makeup box (I am serious! She puts them in a box just so I won't get them lol) and try to put her BB creams on. My school prohibits makeup, but with those Korean BB creams that I so sparingly (so my mom won't notice) put on my face, nobody ever noticed. I just got more compliments on how my skin was so soft and flawless.
The Korean Glass Skin Care
The Korean glass skin care has become so popular that everyone I know wanted to try it.  However, this involves a ten-step routine and honestly, this seems to take so long I can only do the routine consistently for a few days then stop altogether.
 Glass Skin Discovery KitClick For Best Price
From the makers of the iconic Glass Skin Serum, this Glass Skin Discovery Kit is your definitive glass skin routine – in four (4), not ten!,  EASY steps.
Now, isn't that doable?
If you want to know more about achieving your glass skin in four easy steps, keep reading.
By the way, enjoy 15% off the best K-Beauty Award Winners on PeachandLily.com.  Shop all winners here!
Peach and Lily's Glass Skin Discovery Kit
 Peach and Lily Glass Skin Discovery KitCheck Here For More Details
Peach and Lily's Glass Skin Discovery Kit is a unique, four-step routine of products that will help you achieve glass skin in four steps in the shortest time possible.
What is Korean Glass Skin and How Can You Achieve It?
✔️ In a nutshell, Korean glass skin is that skin you rave at when you are watching K-dramas.  The lead has skin so healthy it looks translucent, with no visible pores. Moreover, the lead appears to be not wearing any makeup (or she must have mastered the no makeup makeup look! That's what I want to achieve, too.)
✔️ Glass skin is the skin you have at its healthiest. It is hydrated, nourished, and the glow comes from within.
And this is exactly what Glass Skin Discovery Kit's aim is. It was created with special ingredients to make your skin glow from within.
This kit does not include fragrance and other ingredients that can mess up with your delicate facial skin.
By the way, I have really sensitive skin (with bouts of eczema especially in times of stress and weather changes) and I am so glad Peach and Lily products have excluded over 1,500 ingredients that can cause skin irritation.
The Glass Skin Discover Kit does not include:
Fragrance
Alcohol
Sulfates
PEGs
Polysorbates
Animal Products
Dyes
Parabens
MEA
DEA
TEA
Natural essential oils are used carefully. Although natural essential oils are good for the skin, some oils can be irritating especially on sensitive skin.  As a rule then, the company does not use essential oil.  If they do use any essential oil, only a tiny percentage (around .05%) is used.
Moreover, Peach & Lily Products are:
Cruelty -free (Leaping Bunny certified)
Gluten-free
Vegan
Non-toxic
Four Steps to a Korean Glass Routine Using Peach & Lily Glass Skin Discovery
Inasmuch as this glass skin routine only takes four steps, be ready to commit. 
Achieving glass skin does not take overnight.  You have to go through the steps and commit to following the steps religiously to achieve your coveted Korean glass skin.
Be that as it may, here are the Four Steps to Glass Skin Discovery
Wash your face with an effective, but gentle cleanser.  Make sure to cleanse deeply to remove all the gunk out.
Now, for what kind of cleanser to use.  There are lots of face wash to choose from, but NOT all are gentle on the skin.  I have used Kojie San as a cleanser for a time and although it was effective, I did end up with irritated face at times, especially if I left the product on my face for over thirty seconds.
To achieve glass skin, select a gentle cleansing product like Power Calm Hydrating Gel Cleanse to clean your face.
 Peach & Lily Power Calm Hydrating Gel Cleanser
The Power Calm Hydrating Cleanser is perfect for all skin types. It is a lightweight, hydrating gel that lathers into a soft milky foam with a 5.5 pH and a faint calming herbal scent with top notes of lavender and base notes of camellia and chamomile.
KEY POINTS
no harsh cleansing agents (sulfate-free)
low pH
infused with hydrating and calming ingredients like chamomile and calendula.
Dissolves impurities
Hydrates Skin
HOW TO USE
Pour on palm, lather with water , and apply on falce.  Rinse well with water and gently pat dry.
Use in the morning and evening daily
What's in the Power Calm Hydrating Gel Cleanser?
Power Calm Hydrating Gel Cleanser Ingredients
DI Water, Glycerin, Sorbitol, Coco-Glucoside, Tea-Cocoyl Glutamate, Sodium Citrate, Butylene Glycol, Camellia Japonica Flower Extract, Camellia Sinensis Leaf Extract, Centella Asiatica Extract, Chamomilla Recutita (Matricaria) Flower Extract, Glycyrrhiza Glabra (Licorice) Root Extract, Scutellaria Baicalensis Root Extract, Panthenol, Cucumis Sativus (Cucumber) Fruit Extract, Prunus Persica (Peach) Fruit Extract, Hydrolyzed Hyaluronic Acid, Sodium Hyaluronate, Tocopherol, Sodium Acetylated Hyaluronate, Zingiber Officinale (Ginger) Root Extract, Propanediol, Aloe Barbadensis Leaf Juice Powder, Rosmarinus Officinalis (Rosemary) Leaf Extract, Cellulose Gum, Ethylhexylglycerin, Polygonum Cuspidatum Root Extract, 1,2-Hexanediol, Pantolactone, Chlorphenesin, Dipotassium Glycyrrhizate, Polyglyceryl-10 Caprylate/Caprate, Acrylates/C10-30 Alkyl Acrylate Crosspolymer, Trisodium Ethylenediamine Disuccinate, Polyglyceryl-10 Laurate, Lavandula Angustifolia (Lavender) Oil, Pelargonium Graveolens Flower Oil.
Step two: Wild Dew Treatment Essence (1 oz)
 Peach and Lily Wild Dew Treatment EssenceClick For More Info
Essences rejuvenate the skin.  Before Korean Skin Care was a big thing, I only used regular moisturizers.
I actually hated them.  They were thick and on my sensitive teenager skin, I did not only break out.  I had an eczema flare up. 
My dermatologist prescribed an essence.
I love essences.  They are so lightweight they feel like second skin.
PROS
Now here is one of Peach and Lily's Wild Dew Treatment Essence's finest points: It tones and hydrates the skin by using its key ingredient – hyaluronic acid. This essence includes small, medium, and big sized hyaluronic acid molecules to deliver maximum hydration to the skin.
It has powerful antioxidants – lotus, bamboo, niacinamide, adenosine, and probiotics
It has a pH 5.7.
Makes your skin dewy and ready for the next treatment.
HOW TO USE
Pat onto clean skin with hands.  Others use cotton pads, but I do it the Korean way lol.
What's inside the Wild Dew Treatment Essence
Water (Aqua), Glycerin, Niacinamide, 1,2-Hexanediol, Betaine, Panthenol, Nelumbo Nucifera Leaf Extract, Bambusa Vulgaris Water, Sodium Hyaluronate, Allantoin, Raphanus Sativus (Radish) Leaf Extract, Adenosine, Cryptomeria Japonica Leaf Extract, Saccharomyces Ferment, Glyceryl Caprylate, Biosaccharide Gum-1, Ethylhexylglycerin, Phytic Acid, Polyacrylate Crosspolymer-6, Butylene Glycol, Polyglyceryl-10 Caprylate/Caprate, Polyglyceryl-10 Oleate, Polyglyceryl-10 Laurate, Eucalyptus Globulus Leaf Oil.
Step three: Glass Skin Refining Serum (0.5 oz)
After applying the Wild Dew Treatment, it is time for your serum.
How do serums work?
Serums are magical and you NEED TO USE THEM.
Serums are more concentrated than an essence.  They give you an even skin tone, gives you smooth complexion, and gives your skin that healthy glow.
What's Inside the Glass Skin Refining Serum:
Packed with hyaluronic acid for ultra – hydrated skin
2% niacinamide for brightening, calming, and balancing benefits
Adenosine and peptides for firming benefits
Madecassoside for calming benefits
Peach extract for vitamins, minerals and fatty acids
Mountain yam extract for additional antioxidants.
PROS
Fast-absorbing
Oil free
Gentle to even the most sensitive skin
The Glass Skin Refining Serum is the star of this four-step routine.  It reduces lines and wrinkles, clears up acne, reduces pores, redness, and blemishes, and brightens the skin.
HOW TO USE:
Pat onto clean, dry skin. Use in the morning and evening daily.
What's inside the Glass Skin Refining Serum?
Water (Aqua), Propanediol, Butylene Glycol, Niacinamide, 1,2-Hexanediol, Prunus Persica (Peach) Fruit Extract, Dioscorea Japonica Root Extract, Sodium Hyaluronate, Adenosine, Hydrolyzed Sodium Hyaluronate, Madecassoside, Hydrolyzed Hyaluronic Acid, Sodium Acetylated Hyaluronate, Acetyl Octapeptide-3, Ethylhexylglycerin, Hydrolyzed Corn Starch, Sodium Carbomer, Beta-Glucan, Saccharide Isomerate, Phytic Acid, Sucrose, Asiaticoside, Caprylyl Glycol.
Step four: Matcha Pudding Antioxidant Cream (0.67 oz)
 Matcha Pudding Antioxidant Cream
As a final step, moisturize your skin.
One of my moisturizer requirements is that it needs to be lightweight.  Using a really thick moisturizer will make my skin flare up.
This Matcha Pudding Antioxidant Cream is so super lightweight it feels like it is my second skin.  And with the added matcha ingredient, I am assured that my skin is protected from free radical giving me a non-shiny non greasy glow.
How to use:
Pat on face and neck.  Use in the morning and evening daily.
What's inside the Matcha Pudding Antioxidant Cream?
Water (Aqua), Ethylhexyl Palmitate, Glycerin, Niacinamide, Cetearyl Alcohol, 1,2-Hexanediol, Dicaprylyl Carbonate, Butylene Glycol, Glyceryl Stearate, Sorbitan Stearate, Camellia Sinensis Leaf Extract, Juniperus Communis Fruit Extract, Melia Azadirachta Flower Extract, Melia Azadirachta Leaf Extract, Moringa Oleifera Seed Extract, Nelumbo Nucifera Flower Extract, Panthenol, Tocopherol, Adenosine, Allantoin, Betaine, Caramel, Chlorphenesin, Eriobotrya Japonica Leaf Extract, Glyceryl Olivate, Cetearyl Olivate, Hydrogenated Rapeseed Alcohol, Propanediol, Pantolactone, Hydroxyethyl Acrylate/Sodium Acryloyldimethyl Taurate Copolymer, Tromethamine, Trisodium Ethylenediamine Disuccinate, Sucrose, Mineral Salts, Acrylates/C10-30 Alkyl Acrylate Crosspolymer, Behenyl Alcohol, Polyglyceryl-4 Oleate, Hydrogenated Vegetable Oil, Dipotassium Glycyrrhizate, Stearic Acid, Sorbitan Olivate, Sorbitan Isostearate, Aniba Rosodora (Rosewood) Wood Oil, Citrus Aurantium Bergamia (Bergamot) Fruit Oil, Citrus Aurantium Dulcis (Orange) Peel Oil, Salvia Sclarea (Clary) Oil, Thymus Vulgaris (Thyme) Flower/Leaf Oil.
Now aren't these four steps to Korean Glass Skin Easy?
My experience:
This set is my first purchase from Peach and Lily. I bought it with faith because I was not really sure it will work because my skin is pretty sensitive and I easily break out.  I am glad that they did not make my skin react or something.  I love that there are no irritating ingredients . The kit made my skin super soft, hydrated, and dewy looking, especially if I am under the sun!
I use my hands to pat the essence on my face and I do it twice to really hydrate my skin.  Oh, and did I tell you I love the glass skin serum? It really cools the skin and my cheeks really look dewy.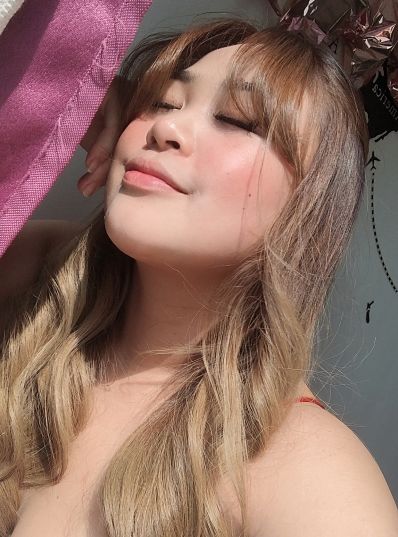 Will I buy again? Yes!
Price: The kit is available at a reduced price for a limited time only $39
Where to buy: Peach and Lily website . You can also get it over at Shopee PH.
Overall rating: 🌻 🌻 🌻 🌻 🌻 (5/5)
Tips to maintain our glass skin
Doing your glass skin routine will guarantee results.  However, it is important that you should also know how to maintain it.
I should know.  I was pretty consistent with my Korean glass skin routine until the pandemic happened.  Suddenly, I stopped taking care of my skin since I am covered in face mask and face shield anyway.
Consequently, I got blotchy skin.
That is where the problem lies.
Achieving glass skin needs consistency and commitment.
You need to do your routine every day, without fail.
And don't forget your sunscreen!
Whether you are inside your house working or going out under the sun, it is very important to apply your sunblock.  You would not want to expose your skin to harmful UV rays.  Also, you won't want to end up with freckles or brown spots
Also, always stay hydrated.
No matter how much you commit yourself to the above-mentioned four steps, you need to keep yourself hydrated to achieve maximum results.  Drinking water will make your skin look good.
Hoping you will commit to having Korean Glass Skin, too.
Cheers to radiance!
Wherever you are on your skincare journey, we're here to help transform your skin with good, clean ingredients. Poreless, luminous, translucent-looking skin is yours at PeachandLily.com