Makeover in Spring and Summer Pink
Last Updated on August 28, 2020 by Paula
Who can resist a great before-and-after? No woman that I know. (Or man, for that matter.)
That's because a good makeover is one of the hardest tricks to pull off: seeing something with new eyes, imagining what is as what could be.
It's a leap of imagination that can pay off big, revitalizing your look, your home, your partnership, your whole life.  It's the thrill of the new, applied to that same old, same old.  Pretty irresistible stuff.
To celebrate the Easter Season and its promise of new beginnings, why not consider making over your sloppy weekend style of plain jeans and shirt and opt for a dotted white chiffon spring dress?  This would be perfect for the warm and humid
weather!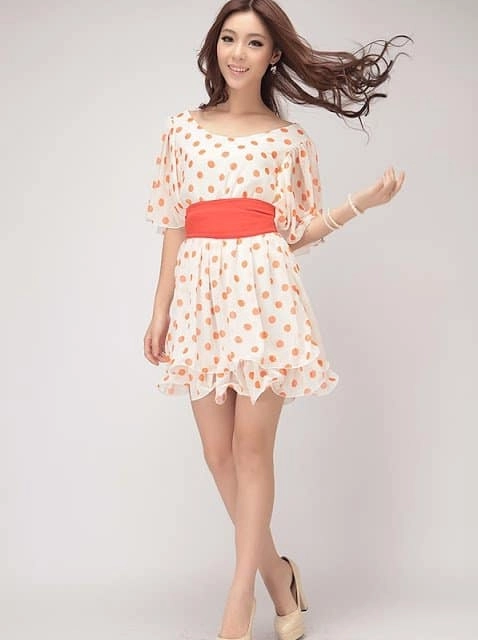 All pictures from here
As temperatures rise and the days become longer, it definitely is time to ditch your dour sartorial leanings and consider flowing Wholesale Dresses in summer's refreshing gelato hues.
These bright warm colors are such eye candy and signify the warmth, the joy and the memories of summer.
Think Pink
The warmer weather sure makes you lighten up a whole lot and "think pink."  The beauty and allure of the different shades
of pink Wholesale Clothing is all in its delivery.  It brings a certain preciousness, a new purity and elegance.
It brings a certain grace as you imagine being the only one elegant and stylish enough to strut in the streets in these dreamy numbers while humming Tchaikovsky's "Dance of the Sugar Plum Fairy" or Cyndi Lauper's "Girls Just Wanna Have Fun" or simply just a Pink song.
It floods you with memories of your Prom Night when you believed you were a princess, dancing the night away with your Prince Charming, dressed in an elegant strapless A-line ball gown.
Who would have thought Cheap Prom Dresses would make you look like a million bucks?
Simply put, soft pink brings a perfect balance and is an antidote to your jeans-and-sweatshirt rut slash tomboy looks and aggressively sexy fare.
Because You Aim to be Irresistible
To make a truly "summery" fashion statement, it is a must to have great accessories, in rainbow hues, of course.  You could consider dipping your toes in a dainty pair of pink pumps, wedges or sandals or using a rose clutch or you can consider these buckle belts in various warm hues.
Bottom line is you should know your style profile so you will know what you want.
Sometimes what you want is a fresh pretty look.
And sometimes you want to dress down.
Whatever you do and choose, everything will come together-because even the most stressful day can bring surprising flashes of beauty, understanding and grace.