YOUR ANTI-AGING BATTLE PLAN: TREAT YOUR SENSITIVE SKIN
Last Updated on August 9, 2020 by Paula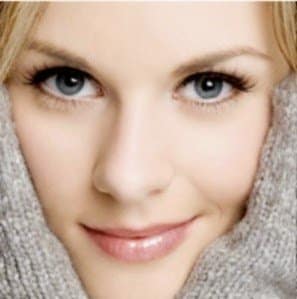 Do you have sensitive skin?
If you are anything like me, you are battling dark  spots and wrinkles and dabbing creams with ingredients to stop the clock.
But if you are part of half of the world's women population with sensitive skin, getting aggressive on those wrinkles and dark spots can cause major irritation or damage.
So is it time to accept defeat and just try to age gracefully?
Because no matter how sensitive your skin is, there are treatments out there that you can use that are just as advanced as those for
normal skin while being perfectly gentle to your sensitive skin.
Stick to these rules and you will win your war against aging.
KNOW YOUR ENEMIES.
Skin doctors don't classify you as having sensitive skin anymore.  Instead, they label your skin as sensitive or sensitized.
This one is new.
What does sensitized mean?
Sensitized complexion is caused by using the wrong products for your skin.  It may be your alcohol-based skin cleanser which stripped your skin dry, making it itchy or fragrant lotions with AHA or BHA that irritated your skin.
Once the trigger is identified and removed, the skin won't be as sensitive.  Just try to avoid soaps that dry, AHA and BHA-based products and anything that has fragrance.
For the ones with real skin sensitivity who may be suffering from eczema or rosacea, always use a mild facial wash, an unscented,
hypo-allergenic, mild moisturizer and try to introduce anti-aging creams gradually.
That way you can identify what product causes your eczema or rosacea flare-ups.
Product Picks:
Cetaphil Facial Cleanser, Daily Face Wash for Normal to Oily Skin, 16oz (Pack of 2)More Info
PHYSIOGEL Cleanser is so mild that it can be used for sensitive skin and even on babies.More Info
Philosophy Purity Made Simple One Step Facial Cleanser, 16 Fl Oz (Pack of 1)More Info
GIVE DEAD SKIN CELLS THE BRUSH OFF
Exfoliation removes dead skin, minimizes pores and reveals a brighter,  even-toned , radiant
complexion.
However, most microdermabrasion scrubs may be bad news for your sensitive skin.  You can opt to invest in an ultrasonic
cleansing tool, which is a lot gentler with its feather-light bristles.  This is gentle enough for daily use, even on
rosacea-prone skin.
Top Picks:
Silicone Facial Cleansing Brush,Ultrasonic Face/Body CleanserCheck Reviews
ProX by Olay Advanced Facial Cleansing Brush SystemCheck Reviews
PIXNOR Facial Cleansing Brush [Newest 2020], Waterproof Face Spin BrushCheck Reviews
TARGET AGE SPOTS
For dark spots, dermatologists traditionally prescribe hydroquinone.
To combat botchy dark areas, swap hydroquinone for a product such as Replenix Brightening Boost Pigment Correcting Cream. It is formulated with skin-brightening arbutin and the power of pigment-correcting botanicals to improve visible discoloration and even out the skin tone.
In drug stores and mall beauty counters, you can also find Vitamin C which is very effective at brightening skin.  Be sure to introduce
the product slowly since it can be acidic and may have burning sensations on
delicate complexions.
Top Picks:
Envy Medical Lumixyl Brightening Cream, 1.7 Fl Oz
Obagi Clinical Vitamin C+ Arbutin  Brightening Serum 1 Fl Oz
Perricone MD Vitamin C Ester Brightening Regimen 15%
CHOOSE YOUR TREATMENTS WISELY
For years, prescription retinoids such as Retin-A and Stieva are the best products for treating wrinkles and uneven skin tone.
However, they tend to dry and irritate the skin, making it a product that most people with sensitive skin cannot tolerate.
Over-the-counter retinol in a 0.5 percent concentration may be used instead at nighttime. It works at restoring thinned skin, improving collagen production and evening out your dark spots.
It is a milder version of retinoid and can be just as effective at restoring  and plumping your skin and evening out dark spots.
Top Picks:
RoC Retinol Correxion Deep Wrinkle Anti-Aging Retinol Night Cream, 1 OunceCheck Reviews
Anti Aging Serum 3-Pack for Face – Vitamin C Serum, Retinol Serum, Hyaluronic AcidCheck Reviews
CeraVe Anti Aging Retinol Serum | 1 Ounce | Cream Serum for Smoothing Fine LinesCheck Reviews
KEEP YOUR SKIN HYDRATED
Dry skin lacks lipids and proteins that protect the skin, acting like a barrier.
If you have healthy skin, this will serve as a shield from things that cause irritation or allergic reactions.  Be on the lookout
for moisturizer that have ceramides or hyaluronic acid.
These two help in making the cell hold on to moisture  a little longer.
Top Picks:
Clinique – Moisture Surge Intense Skin Fortifying Hydrator (Very Dry/Dry )
vbeauté Undercover Agent Anti-Wrinkle DNA Protecting Serum, 1.01 Ounce
Face Moisturizer, L'Oreal Paris Skin Care Hydra-Renewal Moisturizer For Face