Here's Why Yoga Is Great For Weight Loss
Last Updated on April 9, 2019 by Paula
Most people go to the gym when they want to lose weight. This can definitely work but there are numerous other options that can and should be considered. Believe it or not, yoga is one of them. Yoga is useful for weight loss and you will quickly figure out that this is the case after just one week of practice.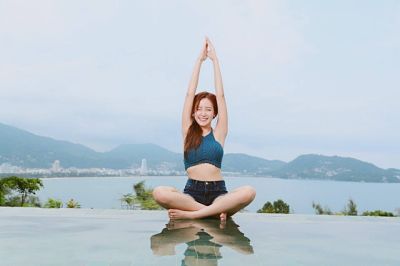 Why is yoga different? It does much more than deal with the physical side of things. It also helps you with the mental aspects of healthy weight loss. As opposed to other exercises, yoga will help heal your body, soul and mind, at the same time. Your entire weight loss transformation is practically supported in a more direct way.
How does yoga support the relationship between your body and mind?
Disconnecting From Technology
We are used to looking at what others do in order to lose weight. Yoga is not like that. You are actually recommended to disconnect from technology and focus on you. Yoga will support you to make really good decisions that are very good for the body. Basically, you end up finding gratitude in those small things that you do and you do not need to compare yourself to everyone else.
Working With Experienced Teachers
Family members and friends can be incredible role models for you but in order to deal with the physical aspect of weight loss, you have to be taught how to do it. Yoga teachers are different than other trainers you meet. They offer mental guidance and guide you to overcome insecurities and weaknesses.
Keep in mind that weight loss without help is often difficult. Yoga teachers help so much more than what people think.
Gaining Access To The Community
When you practice yoga, you become a part of a wonderful community of people that work towards goals that are similar to yours. This in itself is powerful. Yogis from all around the world will offer extra moral support to push you towards accomplishing your goals, including weight loss. While you are obviously guiding yourself and fighting to lose weight, doing it alone is hard. Other yoga practitioners will help.
Meditation
Yoga is not just going from one pose to the next, sweating and losing weight while you build physical strength. In many cases it also involves meditation. One reason why you should seriously consider meditation is that it removes over-thinking and lowers stress. This includes the stress you normally feel as you struggle with weight loss.
Getting Over Blockages
When you read yoga testimonials, you quickly see so many that went over their limiting beliefs and blockages. This does include weight loss. As you try to lose weight, there will be moments when you have to go over some barriers. Getting over them is difficult. With yoga you build a space where your subconscious and conscious thought patterns unite in order to fight together and help you lose physical and mental weight.
Making A Commitment
If you want to lose weight, especially a lot of weight, you need to be committed to a truly healthy lifestyle. After you go through some yoga classes, the body starts to detoxify, heal and cleanse itself. As this happens, you quickly find yourself not wanting fast food or the actions that lower weight loss success. Those that practice yoga get committed to the routines, which is what helps drive the mind and the body towards the ideal weight.