Will This Famous Japanese Facial Lotion Finally Give Me Mochi Skin?
Last Updated on April 7, 2021 by Paula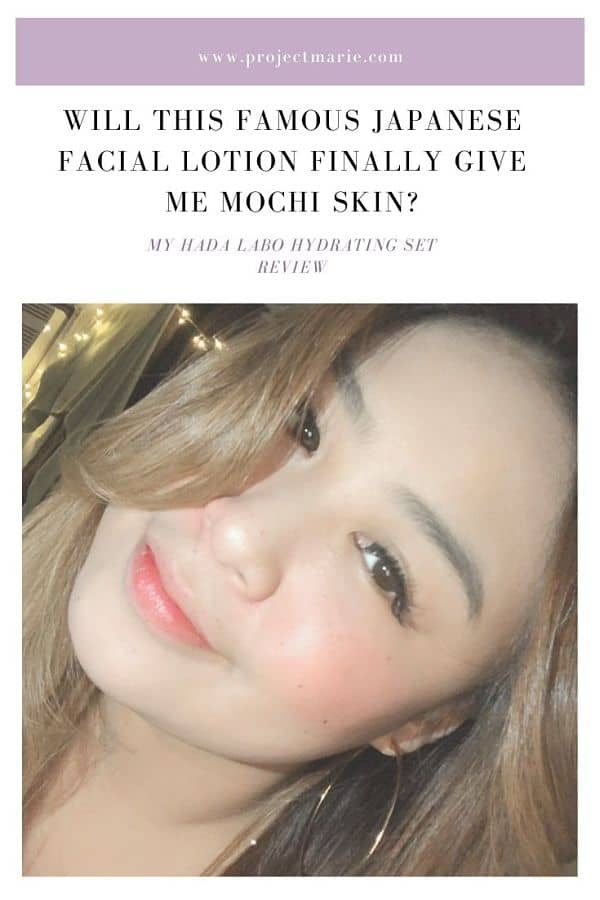 Oh, my! Lazada is now carrying the Hada Labo Hydraing line, including my fave, Hada Labo Gokujyun Hydrating Lotion!
In case you missed it, the Hada Labo Gokujyun Hydrating Lotion has been one of the top facial lotions in Japan. Back when it was not available in the Philippines yet, I would beg my friends going on a trip to Japan to get me a few bottles of the Hada Labo lotion plus a couple of my favorite Heroine Make Long and Curl Mascara.  The first time I have tried it was eight years ago when I was having a bad case of facial eczema.  Living in cold Baguio City did not help a lot.  My skin was dry and my lips cracked.  Plus, I detested drinking antihistamines because they made me very sleepy.
Anyway, back then, my mom applied a very small amount of the Hada Labo Lotion on my face.  I know! What was she thinking?  I could have a bad skin reaction.  However, my skin healed.  I was in awe.
Disclaimer: I am not saying Hada Labo Hydrating Lotion can cure your eczema.  This was my experience.  When trying out new products, always do an allergy patch test.  How?  Apply a small amount of product under your jaw (so that it won't be noticeable if you get a bad reaction).  Wait for around 48 hours to see if your skin will react to the product.
So, anyway, since my budget was tight and I was not sure the new Hada Labo Lotion has the same formula like the one I tried years ago, I go the Hada Labo Hydrating Moist 123 Trial Set from the Hada Labo Flagship Store in Lazada.
 Hada Labo Hydrating Skin CarePHP 465.00 @ Lazada PH
PRODUCT DETAILS of Hada Labo Hydrating Moist 123 Trial Set :
Experience the 3 steps of Hada Labo skin care with this cleansing, nourishing, and moisturizing trial pack.
Contains Hada Labo Hydrating Facial Wash, Hydrating Lotion, and Hydrating Light Cream in convenient sizes
How to use the Hada Labo Hydrating Moist 123 Trial Set
STEP 1: HADA LABO HYDRATING FACE WASH
 Hada Labo Hydrating Facial Wash
Has two types of Hyaluronic Acid (HA) to deeply hydrate skin for significantly soft, smooth, and supple skin after every wash.
Ultra-fine foam that gently washes away impurities, dirt, and oil without drying or irritating the skin.
Skin pH balanced. Low irritation
Free of alcohol, fragrance, and colorant.
DIRECTIONS:  Use twice a day.  Squeeze sufficient amount onto palm.  Lather with water and massage on face, using gentle circular motions.  Rinse thoroughly with water.
STEP 2: HADA LABO HYDRATING LOTION
Formulated with Japan's upgraded formula and High Performance Penetrating & Deep Moisturizing (HPP&M) Technology actively infuses 4 types of Hyaluronic Acid (HA) to fully hydrate skin from the surface to inner skin layers for significantly soft, smooth, and supple skin, and to prepare skin for enhanced absorption of skin care ingredients.
Rich texture – suitable for Normal/Dry Skin
Low irritation, free of fragrances, mineral oil, alcohol, and colorant
Directions:  Use twice a day after cleansing face.  Apply on palms and gently pat onto skin until thoroughly absorbed.  Store in a cool, dry place, away from direct sunlight.
STEP 3: HADA LABO HYRDRATING LIGHT CREAM
Light watery gel texture with 4 types of Hyaluronic Acid (HA) that are powered by High Performance Penetrating & Deep Moisturizing (HPP&M) Technology to lock, replenish, and store moisture deep in skin, layer after layer.
Refreshing light-weight cream texture that gives skin an instant surge of suppleness and comfort.
Skin pH balanced, low irritation
Free of alcohol, fragrance, colorant, and mineral oil
Directions:  Use twice a day after Hada Labo Hydrating Lotion.  Take sufficient amount and apply evenly on face and neck.  Gently massage and pat to allow absorption into the skin.
My Experience :
This mini (as in really mini lol) trial set was easy to include in my daily skin care routine.  Regularly, in the mornings and evenings, I would wash my face with the Hada Labo Hydrating Facial Wash, then I would pat on the Hydrating Lotion on my skin.  By the way, the consistency is like that of a toner, BUT! Even if you are used to applying toner on your face using a cotton pad, what works for this is to gently pat the lotion on your skin. After that, I would apply the Hydrating Light Cream.  This cream is super super light, I so love it.  It is not thick, which makes it easy to apply my regular sunblock after.
During mornings when I have morning duties, this skin care involving these 3 steps is absolutely doable.
Will I buy again?
I've since run out of the 2 mini trial sets (I got a BUY 1 TAKE 1 during the Lazada Birthday Sale) and I am planning on using full versions of these Hada Labo skincare products.
After a week:
After a week of doing this three-step routine, dryness on my skin was gone, plus, I think it is a bit firmer?  Being in double face masks and face shield every day during my hospital duty gave me lines around my cheeks, and I am noticing that those lines are gone.  I am looking forward to having mochi skin after months of using these products.
RATING: 🌻🌻🌻🌻 (4/5 sunflowers)
PLUSES (+)
Moisturizing
I did not have a bad skin reaction
Not sticky/heavy
I have soft skin for hours.
With four kinds of hyaluronic acid, this product is really cheap, but delivers
Trial kits are available at a reasonable price which will make you try the products before you decide to buy
It is super light weight.  And since I hate greasy, I love love the consistency.
Good for my dry skin, making it luminous and supple.
It smoothened my skin.  I have bumps under my eyes and over the nose, but these Hada Labo skin care reduced the dryness and banished the bumps.
It does not have mineral oil, fragrance, and alcohol. 
MINUSES (-)
Products were really small, as in, cute sizes lol (of course, they are trial kits)
Can only be bought online (although I think they carry it at Watson's)
The Hada Labo Gokujyun range has three face washes for different skin types:
 Hada Labo Hydrating Face WashGet it at Lazada Hydra and Whitening Face WashGet it at Lazada Deep CleanPore Refining WashGet it at Lazada
For hydrated and refreshed skin, use the Hydrating Face Wash. I love that it is fragrance free and gentle on sensitive skin.
For hydrated and bright skin, use the Hydra and Whitening Face Wash. This has brown algae extract and resveratrol which are ingredients to help whiten skin.
If you have oily skin and the pores are really showing, you would like to try the Hada Labo Deep Clean & Pore Refining Face Wash, . This has Japanese Green Tea Extract that controls oil and Bentonite Clay which absorbs the dirt and impurities, making you pore-free.
Hada Labo Moisturizer Variants:
 Hada Labo Hydrating Light CreamGet it at Lazada Hada Labo Hydrating Waer GelGet it at Lazada
For skin that is hydrated and refreshed, use the Hada Labo Hydrating Light Cream. Ingredients include aloe vera and other natural botanicals that moisturize skin. The Aqua Oil Volume Matrix technology helps prevent moisture loss and boosts skin hydration. 
The Hydrating Water Gel is perfect for oily skin.  Its AQUA OIL VOLUME MATRIX ADVANCED TECHNOLOGY with 3D clusters hold essential oil-soluble nutrients through oil-in-water droplets, boosting the skin's hydration. I would like to try this one since it is an ultra-light gel which would be perfect this summer. Ceramides, Vitamin B3,aloe vera, and other botanical extracts help in nourishing the skin.
What is Mochi Skin?
Like glass skin, Mochi skin is the skin you would want to have! Mochi is a yummy, soft, and bouncy Asian snack.  Mochi skin is skin that is soft, plump, and fresh, with no dryness at all, "just like baby skin."
Difference between Glass Skin and Mochi Skin
Glass Skin and Mochi Skin both give you skin that is supple, hydrated, and free of lines.  The difference is that glass skin involves skin that is dewy and translucent, while mochi skin is shine free and luminous skin.
Have you achieved your Mochi Skin? Do tell me how you did it!