Snow Skin Whitening Cream and Lotion Review
Last Updated on September 17, 2021 by Paula
My Snow Skin Whitening Cream and Lotion Review
Unlike most girls my age, I am not really obsessed with bringing out the fairest, youngest-looking me.
I am fair, to begin with.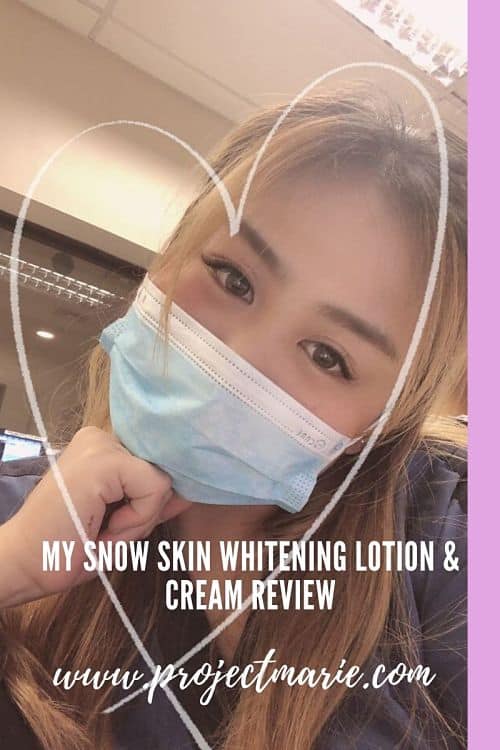 Me and My Super Sensitive Skin
My greatest problem, TBH, is that I have the world's most sensitive skin (well, my mom claims that as well, so I guess it runs in our family), and if I ate something that didn't agree with me (and I am a very agreeable person hehe), or if the weather tends to become unpredictable (which is basically what Baguio City weather is all about), or I get really stressed from exams and night duties, I tend to get eczema flares.
Which is bad, since you would not like to have these flares…
THEY ITCH!
THEY MULTIPLY (LIKE BUMPS ARE LITERALLY GROWING INTO YOUR SKIN) IF YOU SCRATCH!
Plus, the aftermath is horrendous.
If I had a bloody time scratching, I am assured of dark patches.
Which I really hate.
(And they fade really really long, which makes me hate my eczema flares more).
So, anyway, I guess it was the Baguio weather that was not agreeing with me this past month (there were two consecutive tropical typhoons which made our home air really moist which made the molds really happy which triggered an eczema flare on my body. Sounds good so far, eh?)
My skin has healed, but like I said above, the aftermath is not so pretty.
I have already been using Snow Skin Whitening Soap, which is one of my whitening soap true loves because it does not dry my sensitive skin while aiding in fading my post-eczema flare pigmentation, so when I found this from my mom' stash, I literally begged her to give it to me.
Presenting…
Snow Skin Whitening Cream and Lotion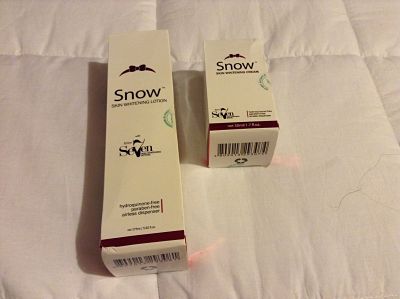 Snow Skin Whitening Cream and Lotion are products of the same guys who gave us Snow Skin Whitening Soap and Snowcaps Premium Glutathione Capsules, so I am really expecting Snow Skin Whitening Cream and Lotion to really deliver.
Snow Skin Whitening Cream and Snow Skin Whitening Lotion have 7 (I repeat, 7!) active ingredients, all clinically proven to whiten skin and to make skin youthful looking.
IBR-TCLC – are colorless carotenoids which protects against UV damage, are anti-aging and photo-aging, good for skin whitening, lightening and evening out skin tone.  The ability of the colorless carotenoids to whiten the skin is a combined effect of melanin synthesis inhibition, reduction in UVA , anti-oxidation and anti-inflammatory effect.
IBR-Snowflake – is anti-aging, anti-wrinkle, and aids in fading and reducing age spots.  It is also a great aid in skin lightening.
ALPAFLOR GIGAWHITE – derived from Alpine plants, AlpaFlor Gigawhite is an organic solution that lightens skin.  It is a natural ingredient which aids in reducing age spots.  .
MELFADE –  its unique solution of highly purified bearberry leaves extract, known as a natural source of arbutin, helps in whitening dark skin areas.
ALPHA-ARBUTIN – promotes skin lightening, minimizes liver spots, and reduces the effect of UV exposure.
BETA-GLUCAN – protects the skin from UV radiation.  It makes the skin healthy by stimulating collage synthesis, promoting healing and reducing discoloration of scars (which I really need!) .
PHENYLETHYL RESORCINOL – is an antioxidant which influences the formation of pigmentation, making the hyper-pigmented skin lighten.  This powerful anti-oxidant derived from scotch pine bark lightens dull complexion, makes your skin clear, bright and supple.
Snow Skin Whitening Cream and Lotion contains a high percentage of concentration of all these ingredients.  For instance, manufacturers use only 0.01% of Alpha Arbutin.  Snow Skin Whitening, on the other hand contains 2% of Alpha Arbutin which is the recommended percentage for maximum whitening effect.
My thoughts on Snow Skin Whitening Cream and Lotion
Like all whitening products, patience is the key.  I have known friends and blog readers who can't wait to get white, but I swear, constant use of this products lightened my scars.
ALTHOUGH! It took time.
The plus side is that this product made my skin radiant – like I was literally glowing.  I love the effect, seriously.
So I was talking about time, right?
Be Careful of Hydroquinone.
A lot of whitening creams in the market offer the quick way out of the dark, but the thing is, these products have hydroquinone.
Hydroquinone has been known to reduce hyperpigmentation, but its notoriety comes from studies pointing to this ingredient as carcinogenic.  Hydroquinone also has a rebound effect, meaning that hydroquinone makes your skin more susceptible to hyperpigmentation when exposed to sunlight while using the product.
Snow Skin Whitening Cream and Lotion evened out my skin tone, although the hyper-pigmented parts took a little longer.  Unlike popular whitening products I have tried, this cream had a moisturizing effect, leaving my skin, soft and smooth.
Did it whiten my skin in 7 days?
Although I was not really counting the days, I guess it did.  My skin is practically even now. I am not really big into the time frame, however.
The skin needs time to heal.  And if your skin is healthy and supple (and eczema-free), who needs to be maputi, right?
I love Snow Skin Whitening Cream  and Lotion most for making my skin healthy.
If you want to get healthy skin by Snow, you can grab this baby at Mercury Drug Stores and and at their website at www.vidanutriscience.com : The 50 ml Snow Skin Whitening Cream costs around P1,499 and the Snow Skin whitening Lotion (175 ml costs P799).