Get Trendy with Freaky Nine Temporary Tattoos
Last Updated on January 27, 2023 by Paula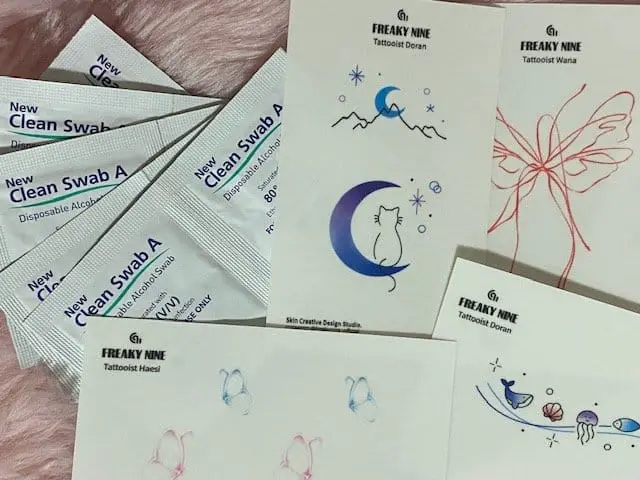 Want to up your style game without the commitment of a real tattoo?
I totally recommend Freaky Nine!
What is Freaky Nine?
Freaky Nine is a Korean-based company that specializes in waterless temporary tattoos. These tattoos are perfect for young adults like moi who want to have fun and experiment with their style without worrying about any permanent consequences. (This goes out to you – yes, you – who has a very protective dad who would not have any of his daughters having a tattoo lol)
Freaky Nine is truly revolutionizing the art of temporary tattoos. Launched by Ahyeon Jang, Freaky Nine offers chic, trendy tattoo designs that provide the same amazing look as regular body art – without the commitment or painful application process!
You can now embrace daring pops of color and intricate designs on your skin for up to two days max, so go ahead and give these temporary tattoos a try – no needles needed!
But hey, did you know that tattooing is illegal in Korean? I know right?
In South Korea, only licensed medical professionals can open a tattoo parlor as opposed to unqualified tattoo artists. Unfortunately, tattoos and those who have them are still largely looked down upon by the older generation of people in this country.
Freaky Nine is providing everyone with the opportunity to experience the beauty of tattoos safely, legally, and painlessly.
Let's dive into why you should choose Freaky Nine and what makes their tattoos so special.
Product Description
Freaky Nine offers 'Premium Waterless Tattoos', making use of cutting-edge technology to develop stickers that can be applied effortlessly and quickly. On average, these tattoos remain visible for two days or more – depending on how you take care of both the tattoo as well as the area where it is placed.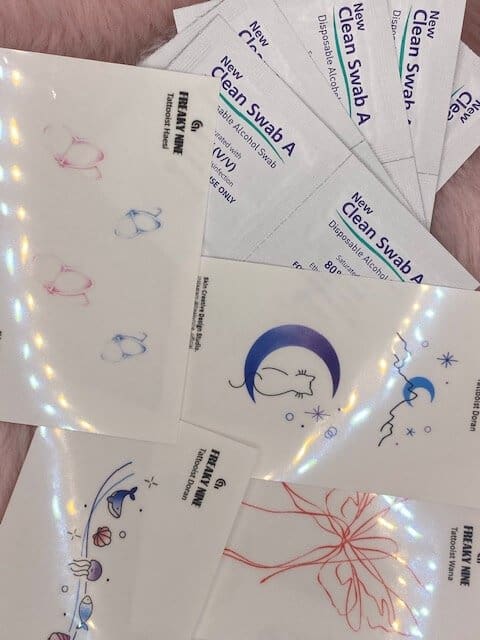 Each package contains two sheets of stickers and alcohol swabs, as well as an easy-to-follow instruction guide. It really couldn't be simpler!
Design Options and Quality of Freaky Nine Tattoos
When it comes to design options, there's something for everyone.
Whether you're looking for a trendy flower crown design or an abstract butterfly pattern, they have plenty of options.
My fave would be (Doran) Blue Moon on the Mountain & Romantic Cat.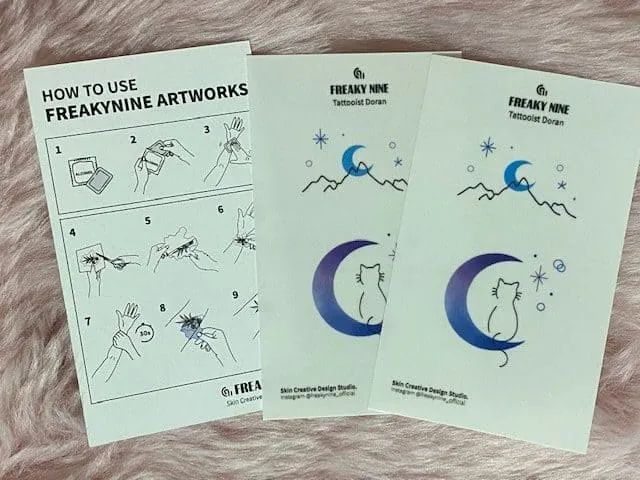 Quality:
In terms of quality, these temporary tattoos are made from safe and non-toxic inks—so you don't have to worry about any skin irritation or reactions.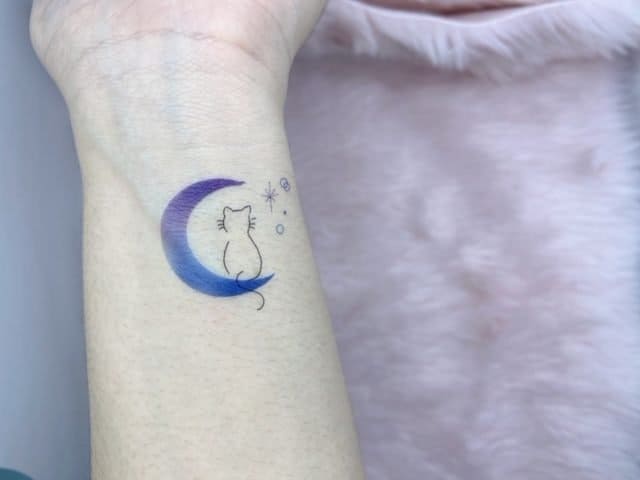 Pros and Cons of Freaky Nine's Temporary Tattoos
Now let's take a look at some pros and cons of choosing Freaky Nine for your next tattoo:
Pros –
Affordable price
huge selection of trendy designs
easy application process
safe and non-toxic ink
looks like the real deal
Cons –
It's temporary
need to be careful with tattoo placement as they can easily smudge or come off if not applied correctly.
How to apply:
Step 1. Gently clean the area with the included alcohol swab.
Step 2. Cut out the design you want with scissors.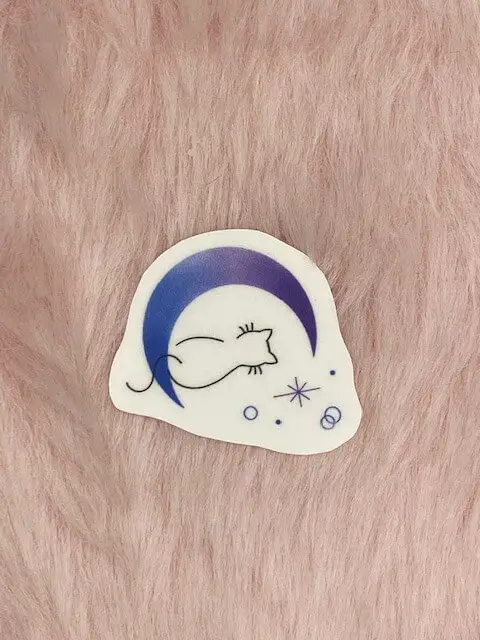 Step 3. Remove the tattoo film from the white protective paper and place it on the desired area.
Step 4. Press onto the sticker for about 10-20 seconds.
Step 5. Lift the edge to check that the sticker has adhered to the area and slowly remove it.
And there's your cool tattoo.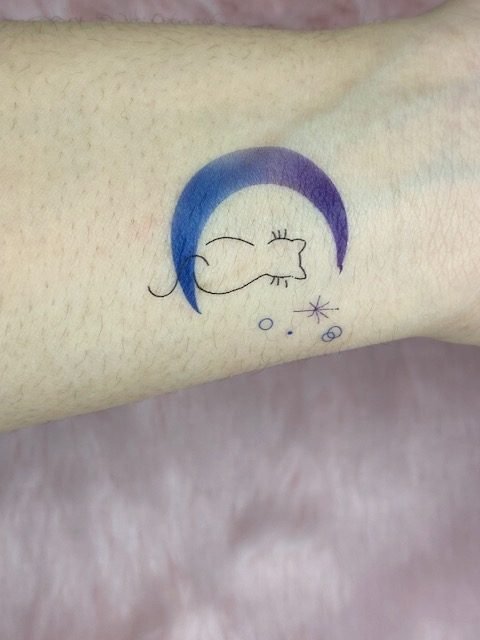 If you're looking for an innovative way to express yourself through fashion without breaking the bank, then yes—Freaky Nine is definitely worth checking out!
Their temporary tattoos are high quality, affordable, and most importantly—super stylish. Plus, since they come off after 2days depending on how well you take care of them, there really isn't anything stopping you from trying out different styles whenever you want!
FAQ
What is a temporary tattoo?
A temporary tattoo, also known as a "waterless" or "dry" tattoo, is a type of tattoo that uses non-permanent inks applied with a special adhesive backing to create a design that can last up to two days or longer. Unlike traditional tattoos, these tattoos require no needles or painful procedures; instead, they are applied with a simple sticker.
What are Freaky Nine temporary tattoos?
Freaky Nine is an innovative brand of temporary tattoos that use safe and non-toxic inks to create high quality, trendy designs. Their easy-to-apply stickers last up to two days or longer depending on how well you take care of them, making them a great choice for those looking to express themselves without the commitment of traditional tattoos. They offer a wide variety of designs from classic flower crowns and abstract butterflies to modern geometric shapes, so there's something for everyone!
How long do Freaky Nine temporary tattoos last?
Freaky Nine temporary tattoos typically last up to two days with proper care. This can be extended if you take extra precautions such as avoiding water and oil-based products, and keeping the tattoo dry throughout the day. They are also designed to be easy to remove with a damp cloth or baby oil without leaving any residue.
What type of ink is used in Freaky Nine temporary tattoos?
They are safe for anyone. In case you experience any irritation, redness, or inflammation after applying temporary tattoos and/or tattoo stickers, we recommend that you remove your temporary tattoos or tattoo stickers immediately.
You can also do a skin test by applying any of the smaller designs on your arm, then check for any negative side effects.
How should I care for my Freaky Nine temporary tattoos?
To make sure your Freaky Nine temporary tattoo lasts as long as possible, it is important to take proper care of it. Avoid s, scrubbing the area, applying lotion or oil-based products, and exposure to prolonged direct sunlight. Additionally, it's also a good idea to keep the tattoo dry. This will help keep the adhesive in place, ensuring that your Freaky Nine tattoo looks great for up to two days or longer!
How do you remove temporary tattoos from your skin?
This product is fully water-resistant! If you ever need to remove the sticker, immerse it in warm water for a few minutes and erase using an oil-based cleaner.
How do you make a temporary tattoo look real?
After applying your tattoo sticker, you may notice a bit of stickiness and some white streaks or shine making it pretty obvious that it is a fake tattoo. Try wiping it lightly with a damp cloth to remove the white marks. Press on some loose powder to make the tattoo look real.