121 Fun Facts about BTS' Jungkook
Last Updated on September 11, 2021 by Paula
Ready for 121 Fun Facts About BTS' Jungkook?
So guys, it is September!!!!
It is my birth month (eeeekkkk)!!!
And I share my birth month with a person special to all the ARMYs' hearts!
Let's show our love for our Golden Maknae, Jungkook (we share the same birth year, too!) with these 121 Fun Facts about Jungkook.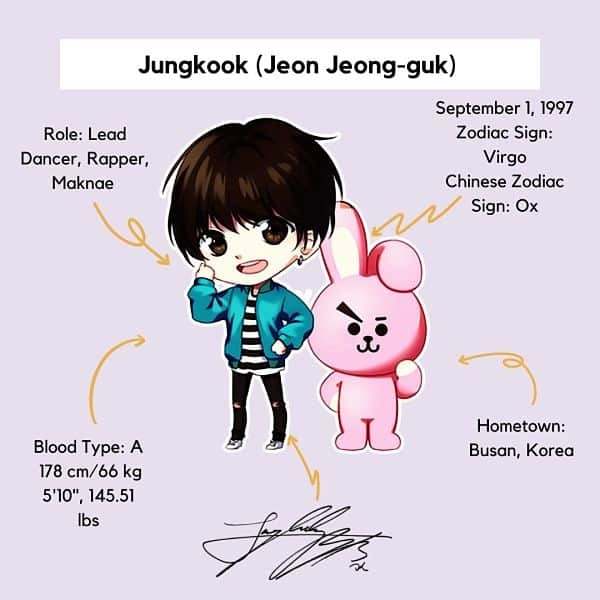 Jeon Jung-kook (Korean: 전정국; born September 1, 1997), better known mononymously as Jungkook, is a South Korean singer and songwriter. He is the youngest member and vocalist of the South Korean boy band BTS.
1. Jungkooks's name means "Center of the Country."
2. Nicknames before debut were "Seagull", "Tattoo", and "Ian".
3. Jungkook is so proud to be a part of such an iconic and cool group. He really thinks that the name "Bullet Proof Boys" fits them perfectly – not at all embarrassed by it!
4. Jungkook's MBTI personality test revealed that he is the INFP "Joan of Arc" type who abhors a repetitive, patterned life style.
5. Jungkook has a  Maltese dog named "Gureum" meaning "Cloud". Awww, he looks like my Philipuss…
6. Jungkook has the strongest dialect accent among all members.
7. Jungkook's mom is 2 years older than his dad.
8. Jungkook has a scar which he got from fighting over a computer with his brother when he was little.
9. Jungkook is the youngest in the team and his family.  This must be the reason why he feels more at home with older people!
10. After debut, Jungkook bought his mom a Mercedes Benz.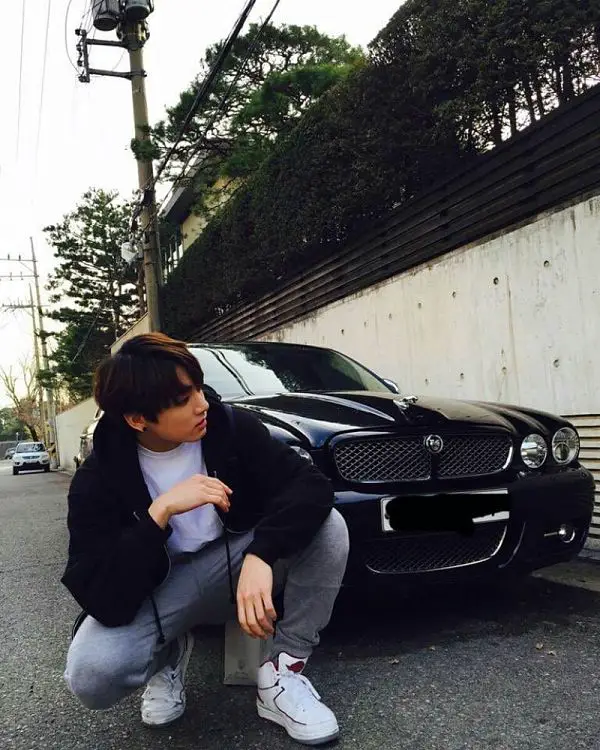 11. Jungkook has more noona fans in their 30s and 40s than any other member.
12. Jungkook loves the color red and enjoys wearing it.
13. Jungkook has an alias he goes by when he posts on Instagram which is 'Beagle Is The Cutest'.
14. During BTS' trip to Malta for Bon Voyage Season 3 in July 2018, Jeon Jungkook was seen with the "I Decided to Live as Me" book.
15. Jungkook's wisdom tooth had three roots, which gave him a hard time pulling it out. That must have hurt a lot! I had a wisdom tooth pulled out and my right cheek was swollen for over a week!
16. Jungkook is known for his aegyo (acting cute).
17. He auditioned for JYP when he was 13 years old but did not make the cut.
18. Jungkook loves playing badminton, drawing, playing the guitar and watching animated movies.
19. Jungkook is great at rapping, dancing, and singing. He is also into photography, and playing Overwatch.
20. Jungkook likes eating melon and apple mango.
22. Jungkook's nicknames include "Golden Maknae', "Tokki" (bunny), and "Kookie".
23. Jungkook once ate 6 cups of Ramen in one go! I bet a lot of girls would love to have ramen with him!
24. Jungkook likes strong flavors – salty, spicy, hot, and sweet. That must be why he loves ramen!
25. Jungkook has this weird habit of making a fist while drinking water. Sooo cute…
26. He likes banana milk.
27. Jungkook's hometown is Busan.
28. At first, people at his company was worried if Jungkook was too shy to become an idol.
29. The members would purposely play on Jungkook's phone so that he will get mad at them.
30. The song that made him cry was "My Answer" by BTS but only because he was moved by the lyrics.
31. Some claim Jungkook's favorite animal is the cheetah, but on iheart Radio's AskAnythingChat, he claimed that his favorite animal was "brachiosaurus." What the world is a brachiosaurus and where can I get one??? lol Brachiosaurus is some kind of dinosaur. Hmm, I prefer this over a velociraptor.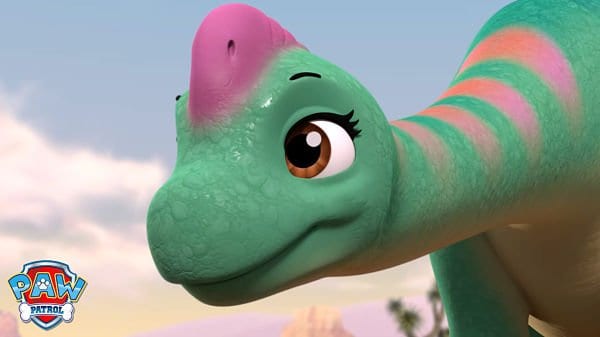 32. Jungkook's lab is named "Golden Closet". He really did work in a closet.
33. What his hyungs mean to him: RM is his life leader, Suga is his life teacher, Jin is his life fighter, JHope is his life cutie, Jimin is his life younger-hyung, and V is his life friend.
34. The other members would tease him by saying that whenever Jungkook isn't around, then they can eat potatoes as much as they want without him there to stop them.
35. He used to wish that if he had a lot of money, he wants to buy his parents a house with a yard because they currently live in an apartment and don't have enough space. Now, he has a new 7Million Dollar House in Itaewon.
36. The most Jungkook can drink is 2 bottles of Soju. And when drinking a shot, he has to chase it with water.
37. Jungkook prefers champagne over wine and cocktail.
38. Jungkook has reportedly been banned from working out because the company preferred his boyish image.
39. Jungkook couldn't play the piano at all when he started making songs, but he can now.
40. Jungkook debuted at such an early age. This may be the reason why there are not too many photos of him from the past. There was one with his family. Look!
41. On June 13th 2012 , Jungkook became an uncle and went to the hospital to meet his nephew.
42. Jungkook gains muscles without any effort. In fact, Jin remarked that he has a body who gains muscle just by lifting a spoon. very easily and Jin remarked that he's got the type of body which gains muscle just from lifting a spoon.
43. In 2011, Jungkook auditioned for Superstar K's 3rd Season. His audition was edited out, I can't believe it! He failed the audition, but our #GoldenMaknae got the eye of seven different entertainment companies. Although Jungkook ultimately failed the audition, agency recruiters on location saw something in him.was eliminated from Superstar K3 audition, but he received offers from 7 different entertainment companies, namely,  JYP Entertainment, FNC Entertainment, Woollim Entertainment, Starship Entertainment, TS Entertainment, Cube Entertainment, and Big Hit Entertainment. Big Hit Entertainment was a smaller company at the time, but he did make a good choice, didn't he?
44. Jungkook once stood up all night choosing a list of songs to recommend to his fans.
45. Jungkook has a great lung capacity that he can sing stably live even when dancing hard
46. Jungkook likes someone who takes care of herself and looks healthy.
47. Jungkook was 15 when BTS debuted in 2013. He was still attending school. He joined Big Hit Entertainment before his BTS debut.
48. Jungkook is very athletic. He excels in anything that involves physical activity.
49. Jungkook is not only capable of doing powerful dance, urban style dance, but also good at doing sexy dance moves by the girl groups.
50. Jungkook once interrupted Jimin and Jin with his incessant doorbell ringing and the boys were having none of it. .Jungkook was so determined to enter a hotel room that he even danced in the lobby.
51. When Jungkook was a trainee, he was so shy that he stayed quietly in the dorm and had a difficult time singing in front of people.
52. He was so shy he has to wait for the rest of the members to sleep before he takes a shower.
53. Jungkook left Busan on a train to Seoul when he was just 13 years old. The six older members served as his hyungs as they raised that really shy teenager.
54. In Burn The Stage, Jungkook talked about how his members helped him to be less greedy and possessive with the things he wants.
55. Jungkook's motto is "I'd rather die than live without passion."
56. Jungkook enjoys working out a lot that he even exercises in a hotel by lifting the furniture.
57. His favorite song is Serendipity by BTS.
58. "Begin" was a song written by Jungkook which describes him growing up with the members. He made member hyungs cry a lot while he was working on it.
59. When in elementary school, Jungkook took the place at a "national" fitness test.
60. Jungkook was so shy he cried when hyungs begged him to sing in front of them.
61. Along with J-Hope and Jimin who used to be a street dancer and a modern dance student, Jungkook is always mentioned as a good dancer.
62. When the dance to "Just One Day" started, Jungkook got really excited and tried to say something but couldn't because he was so happy.
63. Jungkook did not used to be a good dancer. The boys' choreographer Son Seong-deuk took him to the U.S. and had him meet famous choreographers. His dance skills are now top notch!
64. Jimin says that it looks like Jungkook has a life of his own when dancing.
65. He was such a cry baby that when his hyungs asked Jungkook if he was crying, he really cried. Oh, you poor thing.
66. He wants to film a horror movie because he likes the thrill they provide.
67. When asked what he would do if all 7 members fall in love with one girl, and Jungkook said he will win her heart by defeating his hyungs.
68. When he was 18, Jungkook moved a basketball board by lifting it.
69. Jungkook is very competitive, that whenever he has a bet, he tries his very best to win it.
70. Jungkook can crack open a pineapple just using his hand.
Remember when Jin was scared of Jungkook because he peeled the pineapple with his bare hands 🤣🤣
Of course he's a baby bunny with strong hands 💪🐰#Jungkook #정국 @BTS_twt pic.twitter.com/Fqhq6rO6Cj

— Jungkook Talents (@jjktalents) November 3, 2018
71. Jungkook won the gold in a relay race by making a comeback at Idol Star Athletics Championships in 2015.
72. Jungkook was feeling down when he got a short haircut he didn't like so the staff members had to keep telling him that he looks good with the hair.
73. If hyungs touched or bothered Jungkook when he is sleeping, he body slams them onto the sofa.
74. One of his hobbies is cooking. He likes to cook Korean food, but his specialty is pasta.
75. Jungkook is afraid of microwave ovens. He thinks it would explode at any moment.
76. He is also afraid of bugs, except stag beatles.
78. All of BTS members are afraid of Jungkook. He reportedly beats all of them. Typical of a younger sibling.
79. There is a persistent rumor about Jungkook and Lisa of Black Pink, but they are just friends.
80. When the other members sleep in their personal studios, V would go into BTS's studio and roll Jungkook up in the blanket until he can barely breathe.
81. Jungkook has a fear of heights and has never been on a rollercoaster.
82. His favorite dance move from BTS's choreography is Hobi's finger guns in No More Dream.
83. Jungkook likes dinosaurs.
84. When it comes to dancing, he prefers freestyle.
85. Jungkook graduated high school back in Febuary, 2017 from SOPA (School of Performing Arts) in Seoul, Korea. He entered high school in 2014 a year late because of his packed schedule.
86. Jungkook tried to catch up a lot with his studies, especially on days when BTS isn't touring, with usually RM, Jin & Suga helping him with his homeworks.
87. Jungkook once said he did not own a pillow. He uses a rolled-up towel as a makeshift pillow.
88. Jungkook likes to use Victoria's Sexy Little Things Secret Noir Tease Travel Mist.
89. Jungkook once caused a Downy shortage across Korea. He just happened to mention that Downy Adorable is his favorite fabric softener and this caused two month's worth of Downy Adorable to be snatched up by Armys in just one day!
90. He nearly quit BTS to become a professional dancer after learning dance in America.
91. Jungkook's role model is G-Dragon.
92. Jungkook touches his ears when he's embarrassed.
93. Jungkook's favorite superhero is Ironman.
94. On Bangtan Bomb, Jungkook shaped his hair into a heart and tried to get Jimin's attention while brushing his teeth. Eagle eyed fans caused Wangta's Dr. Baek Toothbrush which was what Jungkook was using to make the brand sell out.
95. We use the same baby lotion and I wanna cry… It's just too cute!
96. Armys snatched up Nivea Lip Balm when they saw him use one on Bangtan Bomb.
97. Jungkook said that when the boys talk in the groupchat, they would bet on who can take the ugliest pictures of each other.
98. Jungkook takes 1–2 cups of coffee in 3 days.
99. When I found out Jungkook was using Bobbi Brown Extra Lip Tint, I just got to have it! Sephora ran out of it, though!
 Bobbi Brown Sheer Indulgences Extra Lip Tint Balm Full Size Trio Bare Nude, Bare Pink, Bare Poppy

100.Jungkook hates fishing.
111. When asked which member they would choose to introduce their little sister to, Jungkook and Jimin chose each other.
112. Jungkook can eat almost anything.
113. .Jimin says that Jungkook smiles when he swears.
114. He has a black belt in Taekwondo.
115. He uses Bath and Body Work's Sweet Pea and I just got to have one too!
116. His cover of "Bad guy" broke the record in twitter as most retweets.
117. He is the heaviest member.
118. Jungkook ranked 13th in the "Top 100 Most Handsome Faces of 2017".
119. He is known as HWANG GEUM MANKNAE.
120. He said he would date everyone 7 years older or younger than him.
121. Yoongi once said Jungkook sleeps with his legs crossed.
 BTS Jung Kook Idol Doll

 Funko Pop! BTS – Jungkook,

 Dynamite – Jungkook

 Plush Toy Baby Doll Pillow

 Funko Pop! BT21 – Cooky

 BTS TinyTAN MIC Drop 11.8

 BTS Mini Doll Jungkook

 JUNGKOOK POSTERS)

 Jungkook Lifesize Cutout

 Jewelry Gifts Set for Army