How Did White Republic Teeth Whitening Kit Hold Up When I Tried It?
Last Updated on March 25, 2021 by Paula
Feeling uncomfortable smiling for that selfie because you don't have shiny pearly whites?
Fret no more because with the White Republic Kit, you won't feel shy smiling for the camera!
[toc]
Have you tried an all-in-one at home teeth whitening kit?
I have always thought I never needed a teeth whitening kit. I am very particular about my dental hygiene and I am used to having my regular dental checkups with my super cool dentist.
But then, the pandemic hit. 
Being with the health sector, I was so busy, I never had the time to go to my Baguio City dentist.
I mean, I have not even been home for over a year!
Being in the center of the pandemic action, my life was so busy coffee was what made me breeze through the day.
(I could swear if I get a cut, coffee-not blood-will gush out.  That was how coffee was my comfort drink.)
After a while, I've noticed that my pearly whites were not that white anymore.
But then, look what I got!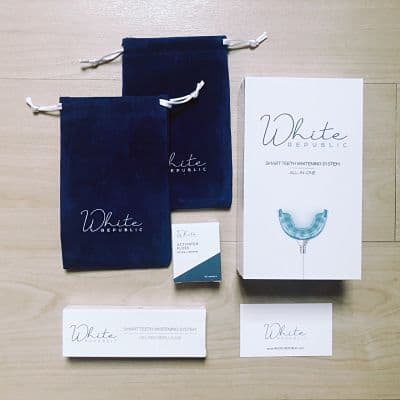 Thank goodness the good guys from White Republic sent me this awesome White Republic Teeth Whitening Kit!  Its promise is that this Teeth Whitening Kit will lighten your teeth in ten (10) days, with a Money-Back Guarantee.
Boy, do I need this. Badly!
Will White Republic hold up to its promise of whiter teeth in 10 days? Let's find out.
I had doubts that an at-home teeth whitening kit can lighten my teeth.  I mean, all my life, I have always thought that a visit to the dentist would only be the solution to my slightly stained teeth.
 White Republic Teeth Whitening Kit @ PHP 3,199.00Get More Info
White Republic Teeth Whitening Kit is designed to deliver results in less than ten days.  Whiten your teeth with the most effective system.
What is inside the White Republic Kit?
✔️ 3 pieces White Republic Whitening Gel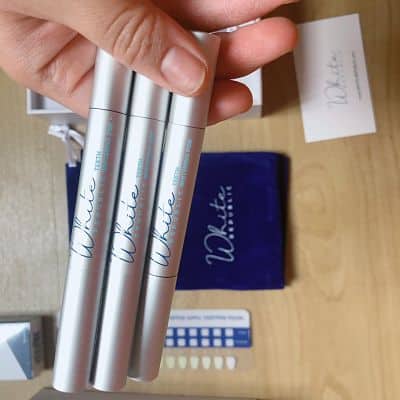 The White Republic Kit includes three whitening gels which is US FDA approved and is good for a little over 20 daily sessions. It has a brush tip for easy and convenient application. Oh, in case you ran out of these whitening gels, you can always re-order at White Republic's site.
✔️ 1 Desensitizing Gel Pen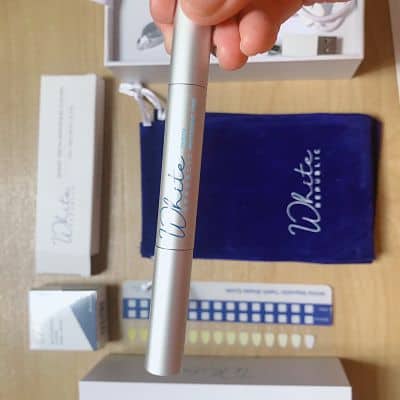 Have you tried other DIY whitening kits? I have used whitening dental strips in the past and they make your teeth sensitive (nangingilo).  It was brilliant of White Republic to include a Desensitizing Gel Pen which is very helpful in eliminating tooth sensitivity and strengthening the teeth enamel.
✔️ 1 Activated LED light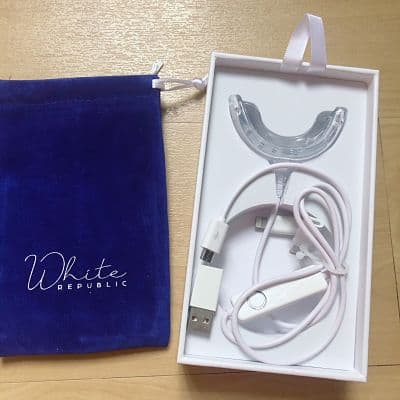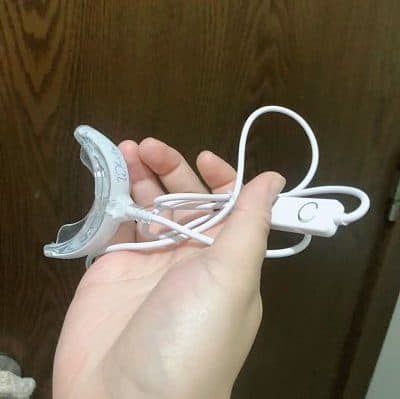 The Activated LED light which is USB, Micro USB, USB Type-C, Lightning (iPhone) compatible does the "magic" thingie by accelerating the whitening process. 
✔️ Shade Guide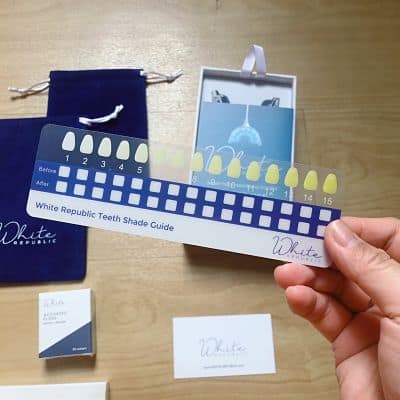 A super-useful Shade Guide is included in the whitening kit which helps you track your progress.
✔️ User Manual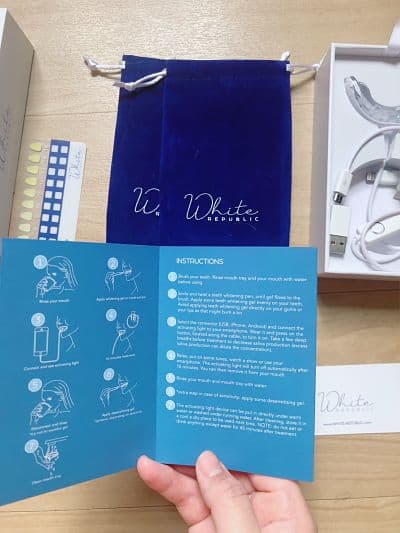 Here are very detailed instructions, including illustrations, on how to use the whitening kit.
✔️ FREE Velvet Toiletry Pouch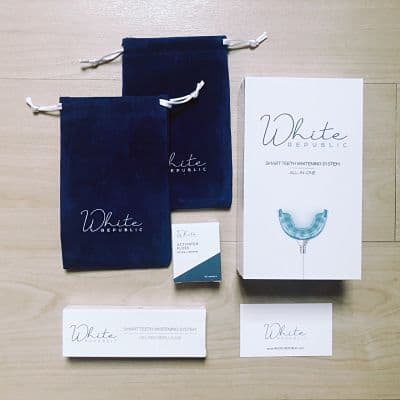 The kit includes a velvety, classic a/f toiletry pouch. Good! I can bring it with me on my out-of-town trips.
✔️ Charcoal Floss
Also included is an activated charcoal floss designed to clean and whiten in between your teeth.
Using my White Republic Kit
The day my White Republic package arrived; I was excited! I tried it immediately.
To my amazement, it does work!
My pearly whites became white instantly!
Here are steps on how to use White Republic Teeth Whitening Kit:
First thing's first—you should have a clean mouth. I mean that's pretty obvious. I brushed my teeth before everything. After that, rinse well with water.
Second thing I did was apply the Whitening Gel Pen. Here's a tip.  You should put it on your teeth ONLY.   Your gums might hurt if you accidentally put it there.
After this is the fun part—plug the activated LED light mouthpiece(I used my iPhone.  How convenient is that?).  Wear the mouthpiece and turn on the gadget.  The Activated LED Light fits perfectly and the amazing part is it automatically turns off after 16 minutes! Did I say fun part?  The first time I used it, it felt weird.  Saliva started to build up in my mouth. Don't attempt to swallow it.
Remove the mouthpiece and rinse your mouth with water.
Make sure not to eat or drink for at least 45 minutes.
To maintain your new pearly whites, use this kit once a week
White Republic Kit Results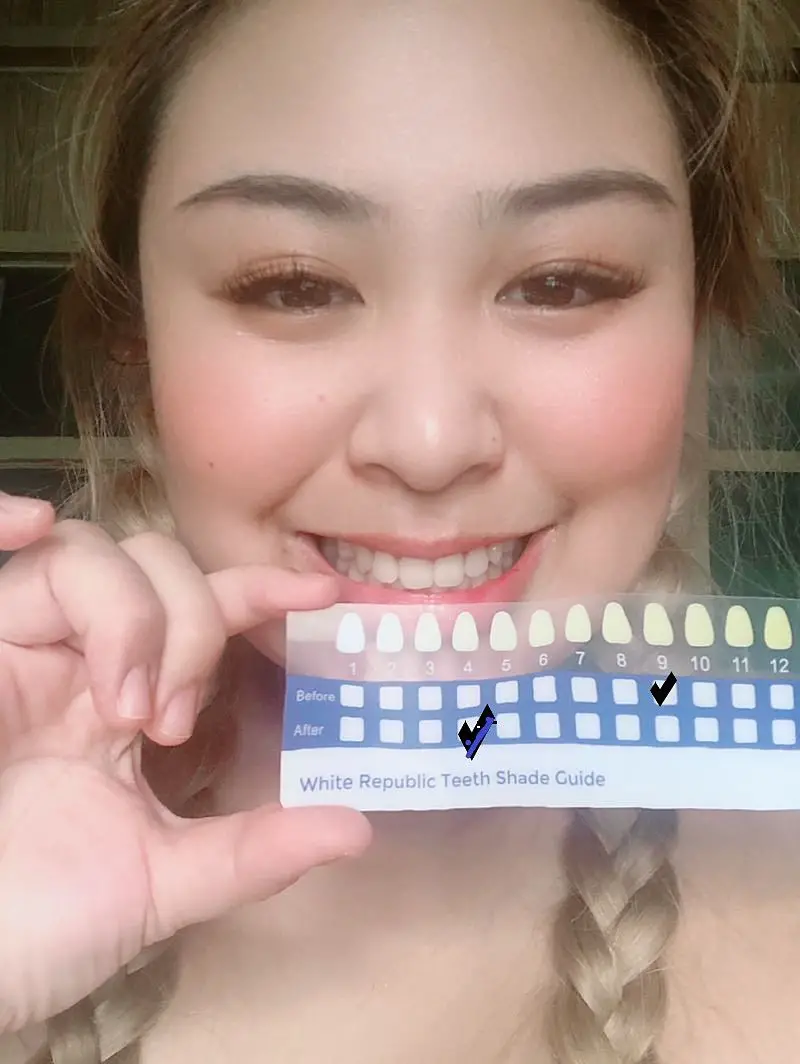 I used this kit for ten days and the results are really shocking. My teeth shade is now on level 4. I started on level 9. I don't feel shy smiling for the cameras anymore. (I think I am going to recommend this to my dentist! j/k)
Are your teeth sensitive?
By the way, if your teeth happens to be sensitive like mine, don't forget to use the Desensitizing Gel Pen.  This desensitizes your teeth and strengthens your teeth enamel.  While the White Republic Whitening is not painful, expect a little "ngilo" when using this.  You will eventually get used to this.
Do I recommend White Republic Teeth Whitening Kit?
Oh, boy, I sure do!  I love using this.  It is so convenient and results are super visible.
With White Republic, my pearly whites are camera ready more than ever!
Visit White Republic and get your kit NOW! Follow them on Instagram!
By the way, here are Frequently Asked Questions on the White Republic Kit:
Can pregnant or breastfeeding women use White Republic Kit?
Since being pregnant or breastfeeding puts you in a delicate situation, it is best not to try the kit yet, although you can consult your doctor for confirmation.
Can children use the White Republic Kit?
No.The product is recommended for those 18 years old and above.
What happens if the gel gets on my gum or lips?
This could hurt, so try to wipe it off and repeatedly rinse with water.
I have fillings/veneers? Can I still use the whitening kit?
The White Republic Kit is designed to whiten and remove surface stains on NATURAL teeth. Fillings/veneers/crowns/caps/bridges/dentures aren't designed to be whitened and will require special dental care.
Can I buy extra gel refills?
Yes, you can always order your gel refills here.
Can this be used before or after getting dental restoration?
This product should not be used a month before or after your dental restoration. Always consult your dentist.
Can I get my money back if this kit does not work?
White Republic offers a 30-day money back guarantee. You can return the product within 30 days if the kit does not work for you.
Can I share my kit with a friend?
Don't ever share your LED light and mouth tray for hygienic reasons. Of course, you can always share your extra gel pen as long as you have not used it yet.
Does the kit work on crooked teeth?
The White Republic Kit is awesome for all teeth. The pen is designed for even hard-to-reach teeth parts.
Have you tried White Republic's Teeth Whitening Kit? Share your experience on my Facebook page.