Six honeymoon destinations for those who are hopelessly in love
Last Updated on March 2, 2021 by Paula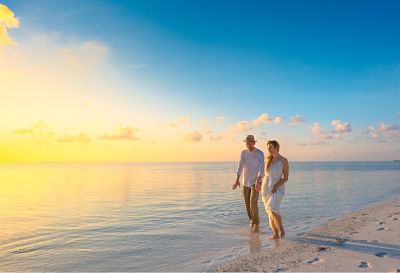 As a starter of a married life full of love, honeymoons have to be pretty special. The days away from everything else with your loved one will be stored in your heart eternally. While other trips are all about fun and a beautiful Instagram feed, a honeymoon is much more than that. The swept away sand with the waves kissing your feet or the mighty mountains engulfing your mind with a drop of serenity, the honeymoon is supposed to be the best days of your life. But the main problem is to zero down the honeymoon destination. Suggestions don't help either. So you cannot really run to your bestie and ask her where to go, can you? No worries, here's a list of six best honeymoon spots to choose from!
The Bahamas
Ahh, these islands can steal your heart away! The Bahamas is a very well-known honeymoon destination and if you don't believe you can try checking out the pictures. The amazing picturesque island with the serene empty beaches, Bahamas can be your safe bet if you are a sea lover. The rentals in Nassau, the main city of the Bahamas, are also quite suitable for the honeymooning couple. A comfortable stay, the beach and the tranquillity, what else can you ask for?
Best time to go – Bahamas doesn't have any bad time to visit, still, November to mid-April can be the best months
Switzerland
Clichéd but worth every penny Switzerland is the dreamland for the newlywed couples. As many would say, the honeymoon is the time you get to make your own vows to each other, what can be a better spot for that? The amazing museums to Boating on River Limmat to the breath-taking mountains, Swiss days will be your most favourite days of life. The Fasnacht Spring Carnival, Jungfrau Region, The Matterhorn, Chateau de Chillon, Geneva, and Swiss National Park are the must-visit places for a proper romantic experience.
Best time to go – September to November
Fiji Islands
A piece of paradise, Fiji Island attracts a plethora of newlyweds every year. Why if you ask? For its rugged cliffs and swaying palm trees with a view of marvellous islands, Fiji Island is one of the most desired honeymoon destinations. Don't forget to experience the much-talked-about Fire-Walking on Beqa. Vanua Levu and Falls of Taveuni are also among the must-visit places. For an out-and-out romantic experience why don't you try Viti Levu, Nadi and Mamanucas, these places are best to have a cuddly and mushy honeymoon trip.
Best time to go – April to September
Paris
The city of love, as it is popularly known as, Paris is the dream destination for many couples. Who wouldn't like to kiss in front of the Eiffel Tower and who wouldn't like to enjoy the Parisian food? Who wouldn't love to hold the hand of the loved one and walk down the streets that tell stories of history and love? Paris is the legit city of love if you are planning to have a romantic city honeymoon trip, Paris should be your first choice. If you are a lover of art and culture, this city will be by your side every time you look for some. Eiffel Tower, the Palaces of Versailles, The Louvre Museum, The Arc De Triomphe are the must visit places. But you should not miss the Bateaux Parisiens River Cruise, Cathedral of Notre Dame, Grevin Wax Museum, and Opera de Paris if you are on your honeymoon trip.
Best time to go – June to August
Tuscany
Want to have a fairytale honeymoon, why don't you try Tuscany? The fairytale villages and the splendid palaces and the cherry on the top being the ancient Roman ruins, Tuscany is one of the most romantic honeymoon destinations. Soak into delicious wines and enjoy the countryside with hand in hand. The experience of togetherness will just grow a hundred times more if you pick Tuscany to start your magical journey of love from. Siena Cathedral, Leaning Tower of Pisa and Luca are the most recommended places of Tuscany. If you are a wine lover, Chianti Classico Wine Region is a must visit place for you.
Best time to go – April to June, and September to October
The Namib Desert
You want to experience a unique honeymoon with a slight touch of adventure. You can try Namibia's the Namib Desert. Namibia's red desert sand dunes are quite famous and are isolated by the Naukluft Mountains. It has a picture perfect scenery and the most romantic destinations are Kolmanskop, Twyfelfontein, Skeleton Coast, Caprivi Strip to cover for the honeymoon couples.
Best time to go – February to April, and September to November
Puerto Rico
If you are dreaming of a luxurious and yet unforgettable honeymoon, head to Puerto Rice. Here is where you will experience the most luxurious days of your life with the one you love the most. There is an option of boutique shopping for the newlyweds here at Puerto Rico. The wonderful and lavish resorts with a great many outdoor activities, this place will be remembered forever. If you are planning to go to Puerto Rico never forget to visit Old San Juan, Flamenco Beach and Castillo San Felipe del Morro. You must also go to Castillo de San Cristobal, and The El Yunque Rain Forest for a romantic time.
Best time to go – April to June
Though it is true that the company matters more than the destination you pick, but when it's about celebrating with the love of your life, everything should be more than perfect, don't you think so? So, which of the above will you choose as your honeymoon destination?