Inside Nike's 30th Anniversary Ad Campaign
Last Updated on October 17, 2018 by Paula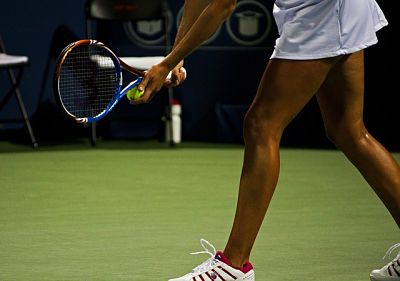 Celebrating their 30th anniversary, Nike has launched a provoking and inspiring series of new ads demonstrating their familiar tagline "Just Do It". The series of five new ads in the Nike shoes campaign highlights incredible athletes like tennis star Serena Williams, NFL athlete and activist Colin Kaepernick, and Shaquem Griffin, an NFL linebacker that made it to the Seattle Seahawks despite missing a hand. Williams' ad is particularly inspiring, tracing from childhood how the world class tennis star succeeded.
Dare to Dream – The Story of Serena Williams
The poignant ad showcases an old home video of Serena training for tennis with her father Richard Williams. Even if this ad doesn't have you hurrying to buy Nike womens running shoes, it is bound to inspire. The filmmakers intercut audio of Williams encouraging his young daughter with footage of her powerful playing today. Williams coached both of his daughters, Venus and Serena, for years. He has been a bastion in good times and bad, pushing his daughters to succeed in a sport that saw the incredible pair as outsiders.
The most impactful line has Richard Williams telling Serena, "This is you at the US Open." Given the recent controversy regarding Serena Williams and a referee, it is no wonder that this African-American father taught his daughters to succeed no matter the odds, to work harder and bolder. Williams even drew up a nearly eight-page plan to help his girls achieve the ultimate tennis success.
Like any world class athlete, Serena Williams provide throughout her career that she had the skill and strength to beat anyone. Born in Michigan, but later growing up in Compton, California, the young Serena and Venus Williams homeschooled while training to be world class tennis athletes. Serena has competed in the Rio Olympics, won Wimbledon and the US Open singles multiple times, and has dominated in the Australian and French Opens.
Recently Williams has had ongoing health issues, partially due to the birth of her daughter. She even showed up to the 2018 French Open in a catsuit (worn to prevent blood clots) shortly before the Nike ad campaign premier. That Nike chose this strong woman, athlete, and mother to represent their brand was a bold statement.
Bold Athletes Take the Stage
The Nike 30th Anniversary campaign also showcases NBA basketball superstar LeBron James, who went from the projects to leading the Cavaliers to the NBA Finals and NFL football players Odell Beckham Jr., Colin Kaepernick, and Shaqueem Griffin. The talented group of international athletes is rounded off by another talented athlete, pro-skater Lacey Baker. Each has a unique story that fits with Nike's overarching "Just Do It" slogan.
Although a talented athlete for the San Francisco 49ers, Kaepernick finds himself unemployed this season because of his peaceful protests regarding social injustice in communities of color in America. Another NFL star, Odell Beckham Jr. overcame significant injury to play, and young Shaqueem Griffin continues to inspire everyone. Though missing a hand, he has found himself a spot on the Seattle Seahawks. His ad features the line, "Who would ever think a kid like me would go pro? Me." Baker has worked hard in her male-dominated field, showing that every person can be themselves. She has her eyes on the 2020 Olympics.
Nike's choice in athletes inspires a new generation to be bolder and to dream harder because the impossible is achievable.