Last Updated on August 19, 2020 by Paula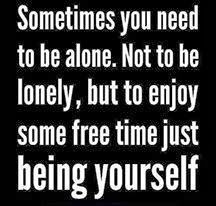 The two of you go way back.
In fact, you've known her forever.
But lately, you feel kind of disconnected – you don't understand her like you used to.
If we were talking about your oldest friend, you'd make a date to spend some time just hanging out – getting back in touch would be a priority.
But the woman we are talking about is YOU!
And lately, you've been telling me that it's been too long since you've actually spend some time by yourself.
Does the idea of being all by your lonesome make you lonesome?
It may turn out that loneliness – or being on your own –  has an upside, but to discover that, you need to do some things on your own.
You may want to visit the country on your own after checking out a trailer manufacturer online.  Or go to Hawaii on your own.
I have not gone to dinner on my own, alone, or go on vacation, alone, but I may seriously consider doing them soon.
Because in the end, these adventurous little moves will not only open up your life; they will lead you back to something absolutely incredible – yourself.