Why do You Have to Worry About Electrolytes on Keto?
Last Updated on July 15, 2018 by Paula
It is common to feel ill and have these crazy flu-like symptoms like dizziness or muscle weakness.
Like I said in this post, you may be down with the keto flu!
Down with the Keto Flu? Click here for fast relief!
Keto flu usually happens when you are not getting enough electrolytes because of the changes in your diet.
Here are some things to know about the important electrolytes you need to focus on when you are following a ketogenic diet.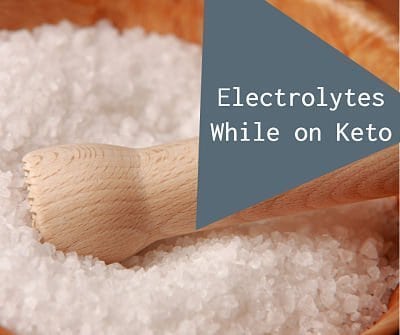 The Important Electrolytes
The three important electrolytes you need to make sure you get while on keto are
sodium,
potassium, and
magnesium.
On a regular diet, especially when you are not watching your carbs, you will not have any problem with electrolyte deficiency.
However, when you start reducing your carbs dramatically and you start to pee a lot because of your keto diet, your electrolyte levels become extremely low.
Try to aim for at least 5000mg of sodium per day, potassium of  1000 to 3000mg a day, and at least 300mg of magnesium a day.
Getting Enough Sodium
Sodium is the most important electrolyte to focus on when you are on the keto diet. If you feel faint and lightheaded, it is often from your sodium level being too low. The best way to cure this is by having more salt on a daily basis. Not only should you be salting your food, but you should try making an electrolyte drink. This will allow you to add more salt, while also getting your minimum water intake at the same time. You can use regular table salt, but pink Himalayan salt is often preferred since it has other benefits as well. You can also get more sodium from broth or bouillon cubes, and pickle juice.
Getting More Potassium
The next electrolyte you need more of is potassium. Mostly because you are no longer eating foods that would otherwise have increased the potassium level, like bananas. However, you can still get your potassium with low-carb foods while on the ketogenic diet. As long as you are following a balanced diet of meat and veggies, you're probably getting enough.
Some of the top foods with potassium are kale, mushrooms, meat like pork, and avocados.
Getting More Magnesium
There aren't many foods you can eat on keto with enough magnesium, so the best option is to take a magnesium supplement. Get one that has at least 300mg per tablet once a day.
What I Use To Get Rid of Keto Flu
 LyteShow (3 Bottles) – Electrolyte Concentrate for Rapid Rehydration – NO Sugars, NO Additives – 120 Servings (With Magnesium, Potassium, Zinc)

This is one product that helped me with keto flu.  And that is why I am recommending it!
It contains the three important electrolytes:
potassium,

sodium and

magnesium
Moreover, it is vegan, gluten free and non GMO.
And hey, it has zinc! So just in case you are coming with the real flu, this might help too!
Keto flu is not fun, I assure you.  So what I usually tell people starting on keto to start using this mineral drops as soon as they start their diet.  Better be safe than sorry, right?
Others don't feel as crappy as going down with the flu, but they always feel Very. Thirsty.
Being extremely thirsty is also due to an electrolyte imbalance and these mineral drops can help as well.
To replace salt:
Aside from your usual rock salt, I love using Himalayan Pink Salt. Aside from it being pink (which I love), Himalayan Pink Salt has more sodium, nutrients, and minerals.  I use it for cooking, adding flavor to my food, adding to my cup of warm water…I even use it for bathing lol!
Magnesium Source:
Seaweed is a good source of magnesium.  In the Philippines, you can get them at your local market.
You can also find delicious seaweed snacks like these on Amazon:
 VitaminSea Organic Wakame Whole Leaf – 4 oz Alaria Seaweed – USDA – Vegan Certified – Kosher – Perfect for Keto – Paleo

 gimMe Snacks Organic Premium Roasted Seaweed Sushi Nori, 0.81 Ounce – 1 Pack

 gimMe Snacks Organic Seaweed Thins, Sriracha Almond, 22 gram, 12 Count

And oh, if you are getting Magnesium supplements, make sure you are getting a maximum absorption magnesium like this: