Last Updated on April 21, 2020 by Paula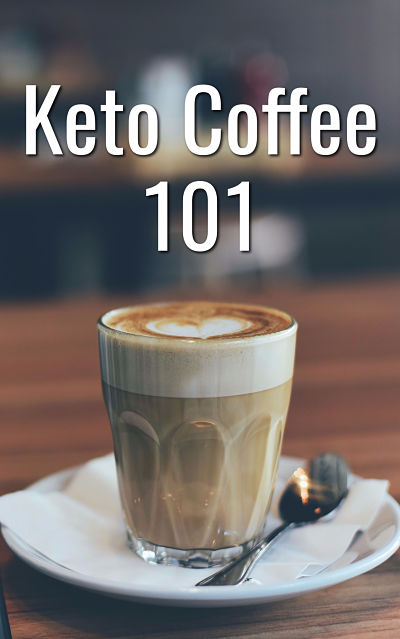 If you are new to the ketogenic diet or currently following the diet, then you must have probably heard of keto coffee.
What is Keto Coffee?
What??? You can do coffee on keto???
Yes, you could, you coffee lovers you!  But only if your coffee is keto coffee.  Keto coffee relies on lots of fat with zero sugar and carbs.  This keto coffee amazingly gives you energy and helps you reach your macros for the day
Still think keto coffee does not sound familiar?
This may be because it was more popularly known as "Bulletproof Coffee."  Keto coffee is basically like Bulletproof Coffee, although there are some differences that we will talk about later.
Keto coffee is an excellent way to have your regular caffeine dose without sugary creamers and other additives while increasing your fat intake.
So what is keto coffee and how do you make keto coffee?
[toc]
What is Keto Coffee?
Keto coffee is simply a way to make a low-carb, high fat coffee that is keto friendly.
You know how we guys love getting our caffeine fix but with all the sugar and the cream and the sugary sprinkles on top?
Well, this is certainly no way to go keto!  With all the sugar content, you can have a sugar rush and eventually crash on midday.
For keto peeps, on the other hand, Keto coffee is a perfect breakfast replacement, making them feel full for hours.
What is in Keto Coffee?
There must probably be gazillions of recipes for keto coffee, but the basic ingredients are these three:
There are different variations and specifications with these three basic ingredients, as well as additions like stevia to sweeten up your coffee, but most people on keto coffee basically use these three ingredients.
For butter, you must use Grass Fed Butter.
Others  prefer ghee. Ghee is clarified butter used by South Asians in their dishes.  "Ghee" is a Sanskrit word that means "sprinkle."  You have to melt the butter and skim the fat off of the top.
Ghee, when hot, is yellow liquid, but it's solid and creamy looking when it cools down.
This is what I use:


For oil, it needs to be Coconut Oil, although others insist on MCT Oil.
What's the diff?
Well, coconut oil is technically MCT (Medium Chain Triglyceride) oil, although its MCT is probably around 60-80%.  MCT oil is more concentrated than coconut oil, and keto advocates claim it aids in fat loss. I have recently been using MCT oil though, especially this one MCT oil which I particularly love.


And oh, you would need an immersion blender to mix all the oil and the butter and the coffee.
I have tried mixing these using a fork and eww, you wouldn't wanna know how it turned out (all the oily gunk and stuff).  To end up with your keto coffee looking Instagram-worthy with some foam on top and, I love using this immersion blender.
You can also choose among these immersion blenders.  I go for pretty and functional! Check out current deals at Amazon!
BELLA Hand Immersion Blender with Whisk Attachment
Mueller Ultra-Stick 500W 9-Speed Powerful Immersion Multi-Purpose Hand Blender
Cuisinart CSB-75BC Smart Stick 200 Watt 2 Speed Hand Blender, Brushed Chrome
KitchenAid KHB2351CU 3-Speed Hand Blender – Contour Silver
OXA Powerful 4-in-1 Immersion Hand Blender Set
Chefman Immersion Stick Hand Blender
How is Keto Coffee  Different From Bulletproof Coffee?
It is not uncommon for people to call this Bulletproof Coffee, since that is where the concept of butter and oil in your coffee came from. Bulletproof coffee is very similar, except it has more strict requirements for the ingredients.
For the oil, only MCT oil is used, whereas other oils are acceptable for keto coffee. There is also a requirement for
the type of butter and what coffee is used.
Keto coffee is a little more lenient, providing you with the base recipe, but allowing you to customize it for your own needs.
Why You Should Try Keto Coffee
Now that you have a better understanding of what keto coffee is, it is time to talk about the benefits!
In the beginning, it can sound gross adding butter and oil to your coffee.  I mean, the high amount of fat seems like too much!  And that was exactly how I was when I tried the keto coffee.
However, when you have just one taste of it and discover all the benefits, you will be addicted!
An Easy Way to Add in Fat
First of all, keto coffee is an excellent way to add more fat to your diet. If you have been on the keto diet for a while, you know that one of the main rules is that not only do you eat fewer carbs, but you increase the fat.
This is mainly what makes it different from a traditional low-carb diet. This means you try to add in more red meat like bacon, and fats like avocado, oil, and butter.
With a single cup of keto coffee, you are adding in approximately 24 grams of fat with the oil and butter alone (number may vary depending on what you use), plus extra if you decide to add anything to it. The goal is to try to have at least 70-75% of your daily calories in fat, so this definitely gets you a lot closer.
You Will Have More Energy.
An amazing benefit to drinking keto coffee in the morning is that you have more energy for the rest of the day. A lot of people struggle to wake up in the morning and make it through until lunchtime without wanting carbs and sugar for that little jolt. With keto, you don't have that option, so you need another alternative.
If you don't have time to get some energy from workouts in the morning, then keto coffee will be your new best friend. It not only has caffeine, but the extra fat and nutrients bring your energy to a whole other level.
The Coconut Oil Has Numerous Health Benefits.
Some keto coffee recipes will add MCT oil to it (more on that later), but the traditional recipe we are talking about here uses coconut oil. This can also be beneficial due to all the nutrients it contains. Among the most important ones are the fact that it helps lower your blood pressure and cholesterol. If your doctor is concerned about the fat in your
diet, this should help ease their mind.
Grass-Fed Butter Provides Unique Advantages.
Another ingredient in your keto coffee that you get some unique benefits from is the butter. With keto coffee or Bulletproof coffee, you want to use grass-fed butter like Kerrygold instead of traditional butter.
 Kerrygold Pure Irish Butter – Unsalted (8 ounce)

This is more humane for the animals, and contains less artificial ingredients or hormones. It is much higher in quality, and tends to have higher amounts of omega 3 and omega 6. Plus, a tablespoon of grass-fed butter tends to be slightly lower in carbs than regular butter, so there is another great bonus!
You Remain Full For Hours.
When you are on a diet, being hungry constantly is a definite concern. This is far less of a concern with keto, since the high amount of fat really helps to keep you full. Not only in the rest of your diet, but especially with your keto coffee.
You have 20-30 grams of fat (or more) in just one cup of coffee, which is going to help keep you full, either until a late breakfast or lunchtime. This is great when you can't stop for breakfast, and don't want to be starving by 9am when the vending machine is calling your name.
Give it just a few days of drinking this coffee in the morning, and you will already start experiencing these amazing benefits!
How to Make the Perfect Cup of Keto Coffee
Now for the fun part – making the coffee!
The start to keto coffee is just like making your regular cup of coffee in the morning, but then it has a few changes. Since you are adding butter and coconut oil (unless you choose MCT oil), you need to blend it up so that everything is smooth.
Here are some basic instructions for making your cup of keto coffee:
Brew Your Coffee.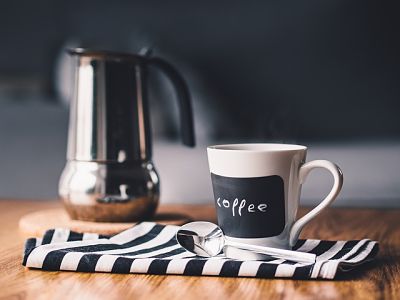 With Bulletproof coffee, there are only certain types of coffee beans allowed, but there are no rules with keto coffee. Just double check the nutritional content if your coffee is  flavored, since some of those have a little sugar or carbs. You can either use a Keurig machine which I totally love or regular coffee maker; there are no strict rules here!
Choose a Method of Blending.
Since you need to blend up the ingredients, you should then decide which method you want to go with.
You can use your full-size blender if you want, though it is rather large  for just a small amount of ingredients.
Many people choose to use a small-size blender, like a Ninja blender, since it is the perfect size for one cup of coffee and the added ingredients.
If you want to blend it right in the cup, you can do that with an immersion blender or even an electric whisk.
Add the Ingredients.
While your coffee is brewing, it is a good idea to start adding your other ingredients to the blender. The amounts you use are up to you, but starting with this list is a good option:
1 Tbsp. Grass-Fed Butter
1 Tbsp. Coconut Oil
If you want the coffee a little creamier, you can add 1-2 tablespoons of heavy whipping cream as well. Add the ingredients to the blender, pour in your coffee, then blend it until smooth. This shouldn't take long since it is a small amount of oil and butter.
Tips For Choosing Quality Ingredients
Now that you know more about keto coffee and how to make it, let's talk a little more about the ingredients you use.
It is not uncommon to experiment and eventually come up with the perfect coffee concoction that works great for you. There are also tons of different recipes out there using different combinations of fat and flavoring additives that still make this keto coffee.
While on the keto diet, you should stick to ingredients that are low in carbs, high in fat, and as healthy as possible. You already know about using grass-fed butter when you can, but here are some other tips for choosing the right ingredients:
If this will be your first time buying coconut oil, you will discover that there are many different varieties to choose from. Don't be put off by the fact that the oil looks solid: coconut oil will be in its solid state until it is either melted or blended. You should try to use organic, unrefined coconut oil that has not gone through any type of chemical
process.
If you like a creamier coffee, you should try to stay away from traditional coffee creamer. It is usually loaded with sugar and carbs. While there is sugar-free creamer that is a little better, it tends to be 2 carbs per tablespoon, where you could add the same amount (or more) of heavy whipping cream and it has zero carbs.
When you also want more flavor, there are some different ways to go. Aside from sugar- free creamer, you could also go with a sugar-free flavored syrup. There are many varieties to choose from. This has less carbs than the creamer, so it is a better option totake.
 I feel like a Queen with this Funny Keto Queen Crown Mug!Click For More Info!
With a cup of coffee, you only need a very small amount. You can also use a few drops of liquid Stevia, but be sure you get it from a health food store and not something that is  overly processed.
Ground Cinnamon
Many people prefer using ground cinnamon to flavor it so that they don't use any 'fake' sugar in their coffee. Give it a try and see how you like it!
How to Make Iced Keto Coffee
As mentioned in a previous section, you can't really make traditional iced coffee by using some of these ingredients. The coconut oil and butter is going to solidify once it gets too cold. However, before you learn about how to make an iced version of keto coffee, you should know that if you just don't like super hot coffee, you can leave it out until it gets cold. This won't be quite cold enough to solidify the butter, but it will be as close to cold coffee as you can get.
Iced Keto Coffee Variations
The main differences you are going to make with your iced keto coffee are not using butter and replacing the coconut oil with MCT oil. You will then add in some heavy whipping cream for more fat and to make your coffee creamy.
These two ingredients still provide some excellent nutrients and fat that will give you energy, but allow you to have your favorite iced coffee.
When making your iced keto coffee, you can either leave out the coffee or cold-brew it, or blend it up with some iced cubes for something similar to a Frappuccino.
[content-egg module=Youtube]