My Low Carb Diet Made Me Lose 5 Pounds In 3 Days
Last Updated on March 9, 2021 by Paula
OK.  When I said that My Low Carb Diet Made Me Lose 5 Pounds in 3 Days, I am serious.
Does eating low carb make you lose weight?
You see, I was so close to becoming a med trainee in this posh hospital, when the HR girl told me, "You need to lose 3 pounds by Monday." (and it was Friday – less than 3 days! when she told me that)
I know. Getting a trainee slot shouldn't depend on your weight, but that was what they told me 🙁
In a hurry??? =====>>>Learn about the ketogenic diet here!
Desperate times call for desperate measures.
So, I called mom.
Mom, with her diet wisdom (always on diet for almost her whole life – kidding – peace, mom!), told me,
"Eat two eggs every meal.  Cook them any way you want."
"Are you serious????" I asked.  Just thinking about eating eggs make me gag.  Seriously!
So, she went with the wisdom of a person who has tried all sorts of diet,"OK, if you can't stand eggs, mix some bacon. And chicken thighs. And chicharon for merienda."
Really now…
Well, I did try to eat them – well – maybe not 2 eggs per meal, but the bacon, I swear I can eat it the whole time.
And guess what?
By Monday, I lost five pounds.
And I got the trainee slot!
3 Day Low Carb Diet can make you lose some weight!
So why did eating low carb help me lose weight without starving?(5 pounds in 3 days! I.Am.So.Not.Kidding.)
Want to have a weekly keto meal plan. I use this one! Not sure if you are buying Ket0-certified, see my 148 Low Carb Shopping List
Here are: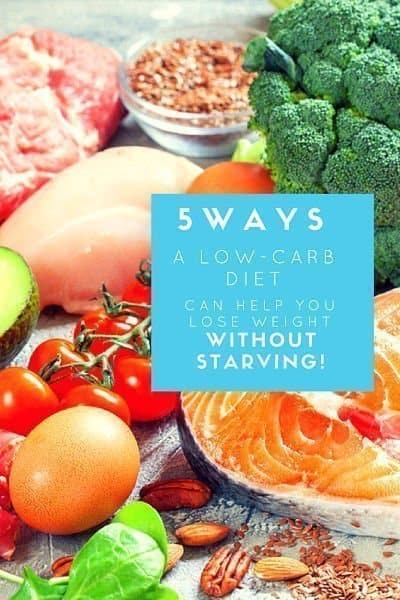 5 Ways A Low-Carb Diet Can Help You Lose Weight Without Starving
Going low-carb made me go against all healthy diet notions that I have known in my two decades of existence.
I still get comments from people telling me to have my cholesterol checked because of the way I eat.
(By the way, being in the health sector and having regular medical checkups, I can attest that all my tests are normal.)
But lately, low-carb diets have become common in the weight-loss spectrum.  Many reputable studies have shown that being in a low-carb diet makes you lose more weight as compared to what we have been used to – the low-fat diet plan.
Without these Keto staples (especially the miracle rice!), my low carb diet won't be as successful!
&
 Pork Rind Strips Crackling Spicy / Regular Combo – Low Carb and Keto Snacks – 4- 2oz. bags of each (a total of 8 – 2oz. bags)

 Delicious Uncured Real Bacon Jerky Hand Crafted Small Batch Kickin' Sriracha MSG Free Nitrate & Nitrite Free (Kickin' Sriracha, 1 pack)

 GRASS FED, NON-GMO FED FREE RANGE BROWN & COLORED CHICKEN EGGS – 4 DOZEN

 Shirataki Miracle Rice (198g) No Carbs! Made with Konjac Glucomannan Brand: Miracle Noodles

Also, research suggests that low-carb diets are very effective at eliminating visceral fat, such as that awful fat found in the belly (IKR! Awful as well as the most dangerous type of body fat.  That is according to research, folks.)
What Exactly Is A Low Carb Diet?
A low carb diet is a system of eating where carbohydrates are drastically or significantly, cut from the diet.
In the strictest plans like the Ketogenic diet, carb intake is limited to non-starchy vegetables and some dairy.
The idea is that when your diet contains practically near zero carbohydrates, the body will no longer get its energy from the glucose they produce.
It instead begins to burn fat for energy, making your body a fat furnace!
Starch and sugar carbohydrates are substituted with healthy fats and a moderate protein intake.
Sugar, pastries, pasta, bread, cereal, beans, or any other starches are no longer allowed.
What you can indulge in instead are fatty foods such as butter, fatty fish like salmon, olive and coconut oils and some dairy along with eggs, steak, chicken, seafood, and oh, my Lord, bacon!
How Does A Low Carb Diet Aid In Weight Loss?
1.A low carb diet triggers ketosis
Eating a low carb diet triggers a process known as ketosis, which is where the body begins to burn fat for energy instead of dietary carbs. Being in ketosis is a very efficient way to burn fat stores, making you lose weight fast.
2.A low carb diet eliminates water weight.
Feeling bloated is a pain, right?
Believe me, when you go on a low carb diet, bloating is a thing of the past!
People who have gone on a low carb diet typically lose quite a bit of weight in the first two weeks.
The water weight loss likely occurs when water that is tied to glycogen comes off the body.  Getting that water weight off can be quite encouraging, making you continue your healthy low carb lifestyle!
3. A low carb diet eliminates insulin trigger foods.
Starch and sugar carbs are insulin triggers that cause blood sugar spikes that lead to weight gain. While on a low carb diet, these insulin triggers are eliminated so the body can burn fat instead of storing it.
4. A low carb diet is high in protein.
Protein helps keep you full and satisfied making you eat less, without all the cravings.
The protein also helps increase lean muscle mass that promotes fat burning. This is one of the factors that make low carb diets effective.
5. A low carb diet regulates the appetite and naturally reduces calorie intake.
A low carb diet naturally regulates the appetite because all those insulin triggers foods that wreak havoc in the blood stream to cause erratic hunger and out of control cravings are eliminated.
Additionally, Researches from St. Louis and Japan (Banks WA1, Coon AB, Robinson SM, Moinuddin A, Shultz JM, Nakaoke R, Morley JE, et all) found that the hunger regulating hormone leptin is positively affected by the low carb diet's ability to reduce triglyceride levels in the body, which allows that hormone to work more effectively in regulating the appetite.
Going on a low carb diet means your appetite will significantly drop naturally.  You will feel satisfied with less food, without all the craving, resulting in weight loss without undergoing hunger!
Are Low Carb Diets Safe?
This is a frequently asked question, especially since we have to rethink what we have been taught ever since – that meat and fat is bad.
The low carb experience is not for everyone, though it is followed by thousands of people around the world, without any problems.
It may have side effects for some, while others may experience nothing. Usually any side effects are short lived. In general, statistics and research show that going low carb is highly effective for weight loss. It also reduces risks for cardiovascular disease better than low fat eating plans.
Make sure you understand what a particular low carb diet has to offer before choosing it.
In conclusion, low carb diets aids weight loss by triggering ketosis, a metabolic state where the body uses stored fat as its source of energy.
Low carb diets also do a great job of regulating appetite and naturally allow those following them to eat less, while feeling satisfied and this is another one of the main reasons that the weight loss is so strong and visible.
Low carb diets are not fads, but lifestyles that have helped thousands of people reverse obesity and improve their health. It may just do the same for you!
Do You Have Your Keto Basics?
&
 Granular Monk Fruit + Erythritol Sweetener (1 lb/16 oz) – Perfect for Diabetics and Low Carb Dieters – 1:1 Sugar Replacement – No Calorie Sweetener, Non-GMO, Natural Sugar Substitute

 Granular Erythritol Sweetener (1 lb/16 oz) – Perfect for Diabetics and Low Carb Dieters – No Calorie Sweetener, Non-GMO, Natural Sugar Substitute

 Hand Held Spiralizer Vegetable Slicer – Zoodle Maker – Veggie Spiral Cutter – FREE 10 Spiralizer Recipes PDF – Make Healthy Low Carb/Paleo/Gluten-free Noodles Quick and Easy with Our Spiral Slicer!