How Do You Increase Your Keto Fiber?
Last Updated on July 11, 2018 by Paula
There are many macros and nutrients you need to focus on while you are following the ketogenic diet, and one of them is fiber.
You might not have paid much attention to your fiber intake before, but it is really important on keto. The reason is because without bread, grains, and legumes, you don't have a lot of sources for fiber, which helps keep you regular.
If you are not regular, by the way, you could try this:
Here are some ways to get more fiber while on the keto diet.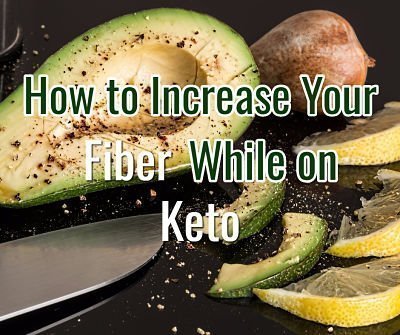 Increase your keto fiber by eating your greens.
Eating your green veggies is one of the most popular ways to get your fiber when you are on the keto diet. If you aren't getting enough fiber from going low-carb since beans, legumes, and whole grains are absolutely prohibited, green veggies might be your best solution to your fiber problem!
Dark, leafy green veggies are full of fiber and are more nutrient dense.  Consider eating romaine lettuce, spinach and kale.  My other absolute faves are brussel sprouts and cabbage.
Cabbage is one of my go-to veggie (since they are in abundance here in my my hometown
One of my favorite cabbage recipe is this one====>>>>Check out this Easy Crack Slaw Recipe!
Increase your keto fiber by going avocados!
Avocado is fresh in my area – I mean, like people grow them! I can pick them up fresh in my backyard!
&
 15 Fresh California Hass AvocadosCheck it out! Mazor Store Avocado Saver and Slicer 3 in 1 – Avocados Holder Pitter Set, Green Storage Huggers Container| Remove Pit Safety Knife Tool Keep Fresh | Avo Savers and Holders + FREE GIFT Lemon SprayCheck it out! La Tourangelle Avocado Oil 16.9 Fl. Oz, All-Natural, Artisanal, Great for Salads, Fruit, Fish or Vegetables, Buttery FlavorCheck it out! Sir Kensington's Avocado Oil Mayonnaise, 16 ozCheck it out! AvoSeedo Bowl Grow Your Own Avocado Tree, Evergreen, Perfect Avocado Tree Growing Kit for Every Avocado Lover – GreenCheck it out!
Lucky me because avocados are one of the best things you can eat on keto!
An avocado is high in fat.  But before you all go wide-eyed on me, avocado is made of the healthy fat!  It is easy to add to any meal, it contains potassium, and of course, lots f fiber.
A medium avocado is about 13 total carbs, but since that amount has 10 grams of fiber, it amounts to only 3 net carbs. This is hard to beat with other vegetables you get your hands on.
Increase your keto fiber by not forgetting about Flaxseeds!
While many nuts and seeds have a small amount of fiber, none of them have as much as flaxseeds as compared to the low amount of carbs. Most of the carbohydrates in flaxseeds are not usable, so a serving is often considered no carbs or very little. However, for every serving, or tablespoon, of ground flaxseeds, you are getting 2 grams of fiber. It might not seem like much, but it is easy to add to your low-carb smoothies, salads, and even soup if you make a keto-friendly version, making this a great option.
Chia seeds are an excellent source of dietary fiber that is best known for its ability to prevent and relieve constipation.  It aids in weight loss, lowers the risk of diabetes and heart attack, helps lower blood cholesterol and glucose level, and reduces inflammation.  I love making champorado with Chia Seeds!
Project:Me Recommends:
&
 Nutiva Organic, non-GMO, Raw, Premium Black Chia Seeds

 Viva Naturals – The FINEST Raw Organic Chia Seeds, 2 lb Bag

 Organic Chia Seeds — Certified, Non-GMO, Kosher, Raw, Whole

 Spectrum Essentials Organic Ground Flaxseed, 24 Ounce

 Viva Naturals Organic Ground Flax Seed, 15 oz –

If you can fit it into your daily carb allotment, coconut meat also has a good amount of fiber, nearly as much as avocados.
Clueless about Keto? Here are answers to your Keto Questions: