Lemons for Skin Lightening
Last Updated on August 14, 2020 by Paula
Lemon is a skin lightener.

My mom swore on how lemons are natural skin skin lighteners.
She would rub the juice on her face and her nails!  And I thought it worked.  She was fair and her skin was clear and
radiant.  Except for the freckles which never lightened – well, maybe just a bit – her skin was to die for.
So why don't you go the natural route and get them good ole lemons to nourish and lighten your skin?
LEMONS LIGHTEN DARK AREAS
I know you are appalled with those freckles – err, age spots when you're older.
I am!  I had them ever since I was a kid (something that I got from my mom).
I had them on my arms and shoulders as well, which is perfectly okay, since in our cold Baguio weather, I can hide 'em spots.
I had so many face spots that my cousin used to tease me about making  a dot-to-dot puzzle on my face.
People looking for me at the office when I am out of field described me as "the one with freckles."
After I gave birth, it was like I opened an ink bottle and the ink splashed on my face.
My face is not as "spotty" as it was then.  I underwent an intense Obagi Nu-derm treatment for about a year and I am on CorrEsthetiques right now.
Which lessened the spots (although they keep re-surfacing if I get exposed under the sun).
But before there was Dr. Obagi and before my former boss introduced me to CorrEsthetiques, I was on to my mom's "lighter skin solution."
Lemons! Lemons are known as a good skin lightener.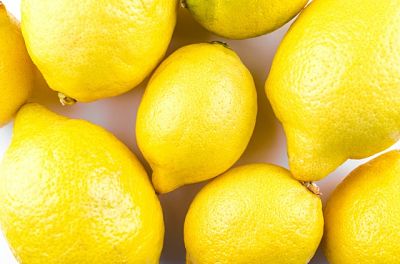 You see, lemons are rich in citric and ascorbic acids.  They aid in the natural exfoliating of your
skin, revealing the lighter skin beneath.
Here's how to lighten your skin using lemons:
Grab a lemon.
Slice it in half.
Squeeze the juice out then carefully apply it to your face and areas you want to lighten.
Do this every day before you sleep.
If you are like me whose skin is super-sensitive, you can mix it with water. Then apply the diluted lemon juice on your trouble areas
using a cotton ball.
Don't forget to test the lemon juice for any allergic reactions.  Dab a small amount of lemon juice under your chin and on your forearm.
Wait for any reactions within the next 24 hours.  If you come out clean without any redness or rashes on the spot where you applied it, you can bathe in pure lemon.
But you can also use the lemon rind and rub it gently on your skin.
And if you have pimples and blackheads, you can also use the lemon. It can heal them. And please remember not to expose yourself to direct
sunlight without using sunblock.  Your skin can get red and  irritated.
LEMONS ON NAILS
Nails that get the regular mani-pedi cannot go totally bare (without nail polish).
Why?  Because the polish stains the nails yellow.
Gross, right?
To get rid of those ugly yellow stains, fill a bowl with warm water, squeeze half a lemon and soak your nails for fifteen
minutes.  Rinse your hand then pat them dry.
Do this every day.  Or , do like what my mom did.  Directly rub the lemon rind on your nails and let it stay there.
Remember to give your nails a break from polish for a week or two while you treat them.  I personally love clean, naked nails more than the ones with chipping nail polish.
Lemons make your hair shine.
If you are tired of your dry, lifeless hair, pouring ¼ cup lemon juice diluted with five liters of water on your newly-rinsed, shampooed hair will do wonders.
The acidic quality of the lemon juice will strip any residue on your hair, creating shine.  Avoid doing this, though, if your hair has
been color-treated.
You can also make your own concoction of lemon juice with coconut oil or honey and apply it like it is a conditioner.  Rinse and rave how shiny and smashing your hair looks.