Easy Peasy Low Carb Keto BLT Bites
Last Updated on October 31, 2022 by Paula
Do you love snacking but want to stick to your low carb diet? Try whipping up some of these delicious Keto BLT Bites! These bite-sized snacks are perfect for on-the-go snacking and contain only the best keto-friendly ingredients like bacon, English cucumber, mayonnaise, avocado. Simply slice them up and top your bacon-and-cucumber bites with your favorites!
Now that's a perfect low carb snack!
Jump to Recipe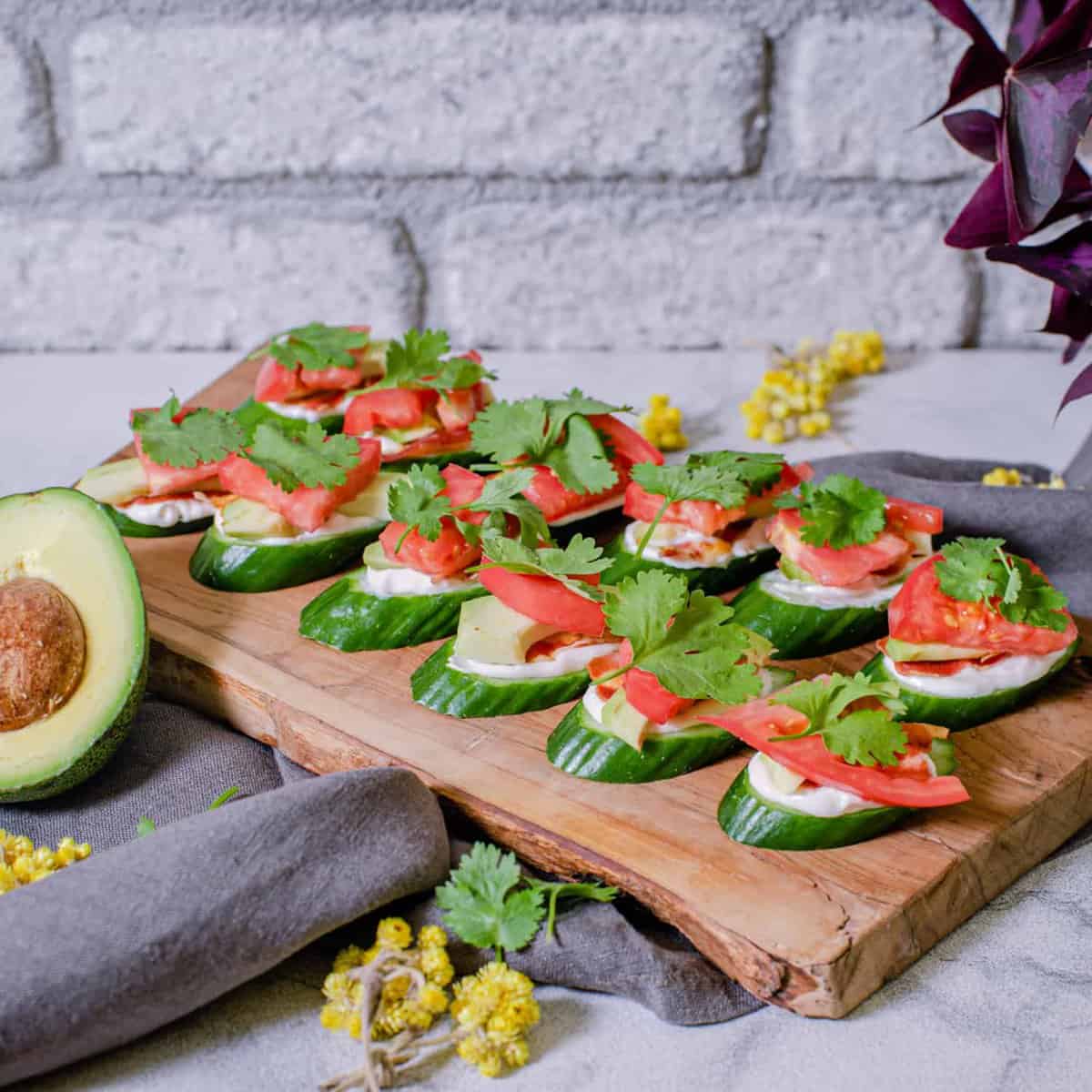 My Low Carb Keto BLT Bites
I've been on a ketogenic diet for like forever, and let me tell you, choosing a low carb snack (especially for Filipinos like me who cannot live without meryenda or #KetoBaon) is not always easy.
When you first start out, it seems like everything you eat is either high in carbs or sugar.
But with a little creativity and some handy dandy low-carb snacks, it's actually pretty easy to stick to your diet!
Along with baked avocado fries, one of my favorite go-to keto snacks is the classic BLT bite.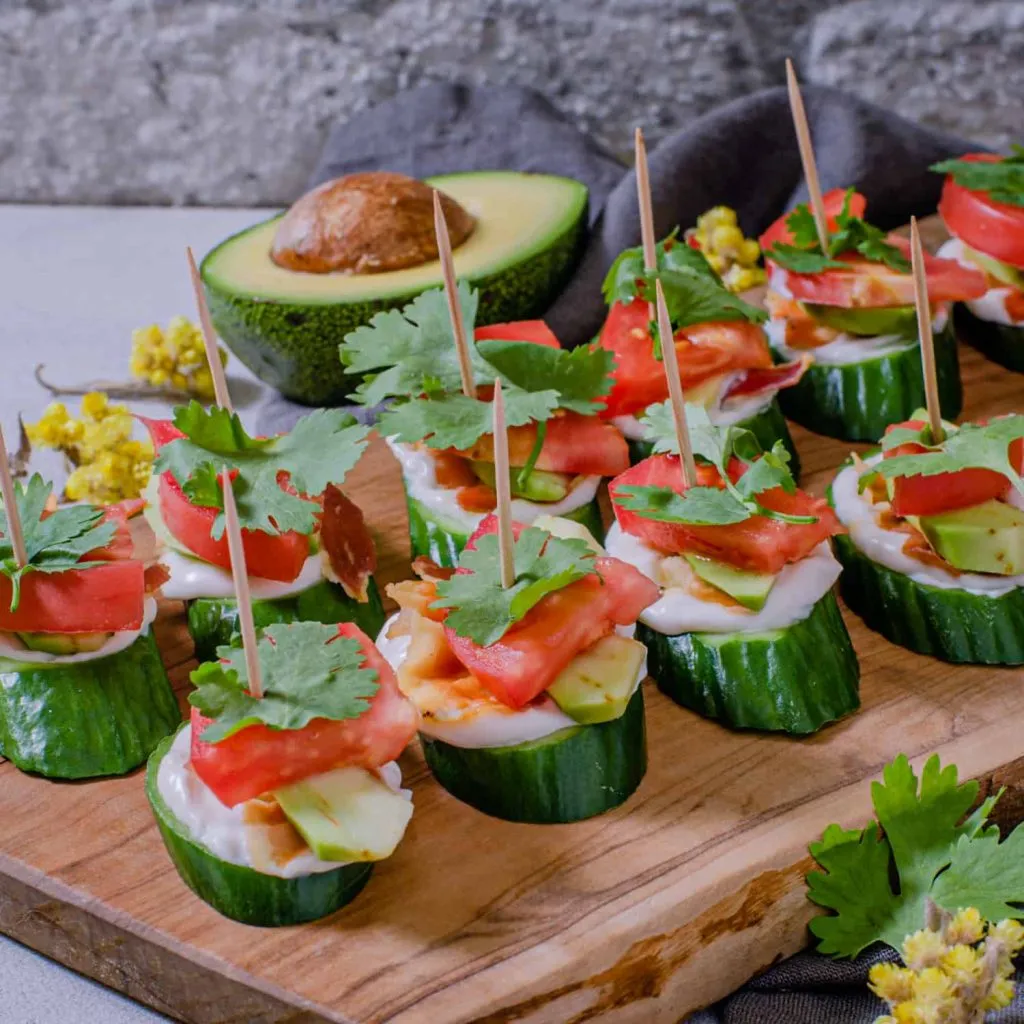 Want to try my other low carb snacks? Get our EASY low carb keto snack recipes here.
Ingredients Overview
Bacon
Bacon is a great low carb option for adding some delicious flavor to your keto snacks. It is also full of protein and contains fats that help keep you feeling full and satisfied.
English Cucumber
English cucumber is a great low carb vegetable to use for your keto snacks, as well. It is full of water and fiber, which can help stave off hunger pangs when you're trying to stick to your diet. Additionally, the healthy oils in English cucumbers are great for helping reduce inflammation throughout the body.
Mayonnaise
Mayonnaise is a key ingredient here, as it provides the perfect creamy base for the avocado and tomato toppings. It makes a great addition to any keto snack recipe because it is packed with healthy fats while being low in carbs. Plus, it adds some creamy richness that takes these BLT bites over the top!
Tomatoes
Finally, tomatoes add some bright flavor and texture to these delicious keto snacks. They are rich in vitamins and minerals, including vitamin C, potassium, and lycopene.
Together, these ingredients make for a delicious keto snack that is convenient, easy to prepare, and perfect for those on the go.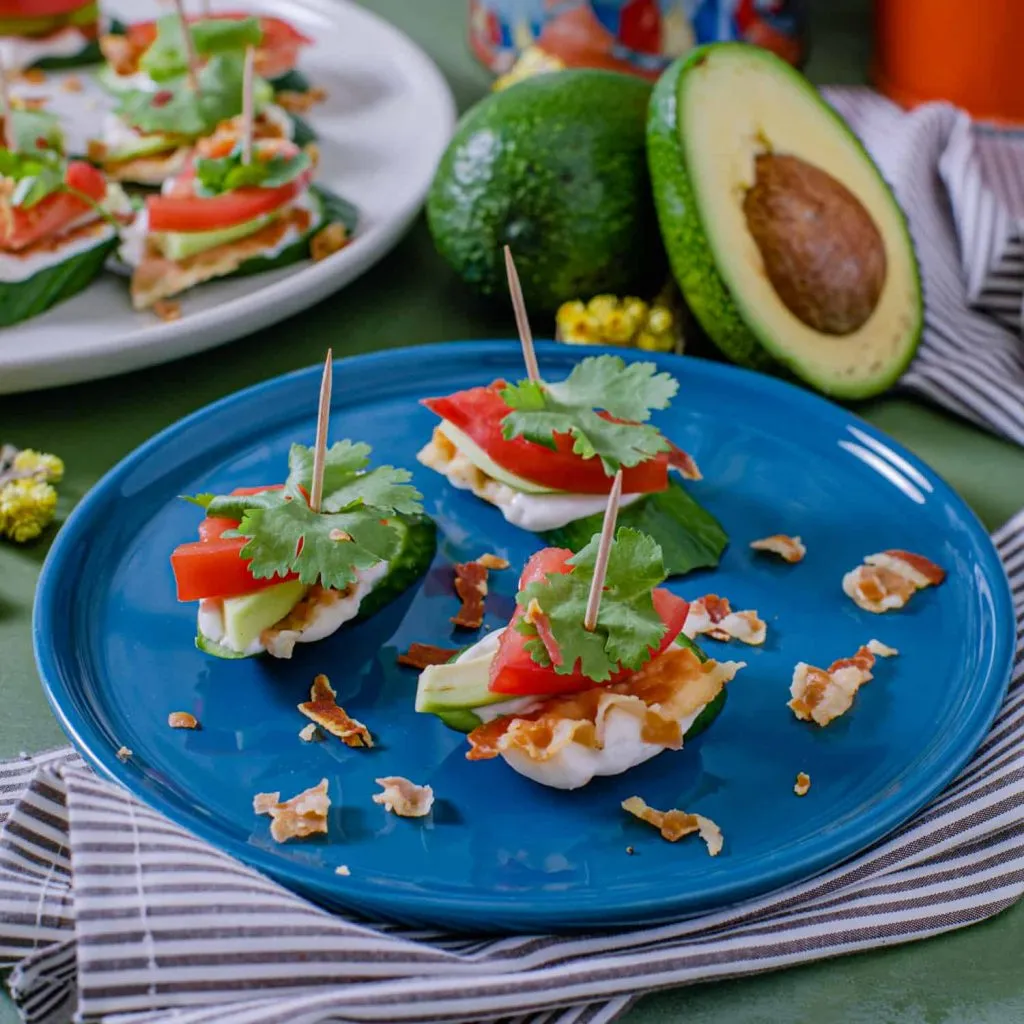 Substitutions
You can substitute bacon with turkey bacon, ground beef or another low-carb meat of your choice.
You can substitute mayonnaise with japanese mayo or sour cream. It depends on your preferences and dietary restrictions.
You can also try using other low-carb vegetables like bell peppers, zucchini, or broccoli in place of English cucumbers.
You can substitute avocado with any lower carb vegetable or fruit such as bell pepper, or squash or even pineapple (if you're doing dirty keto) depending on your personal preference.
All of these substitutions will help keep this recipe low-carb and keto-friendly while still maintaining the delicious flavor profile that you love.
Recipe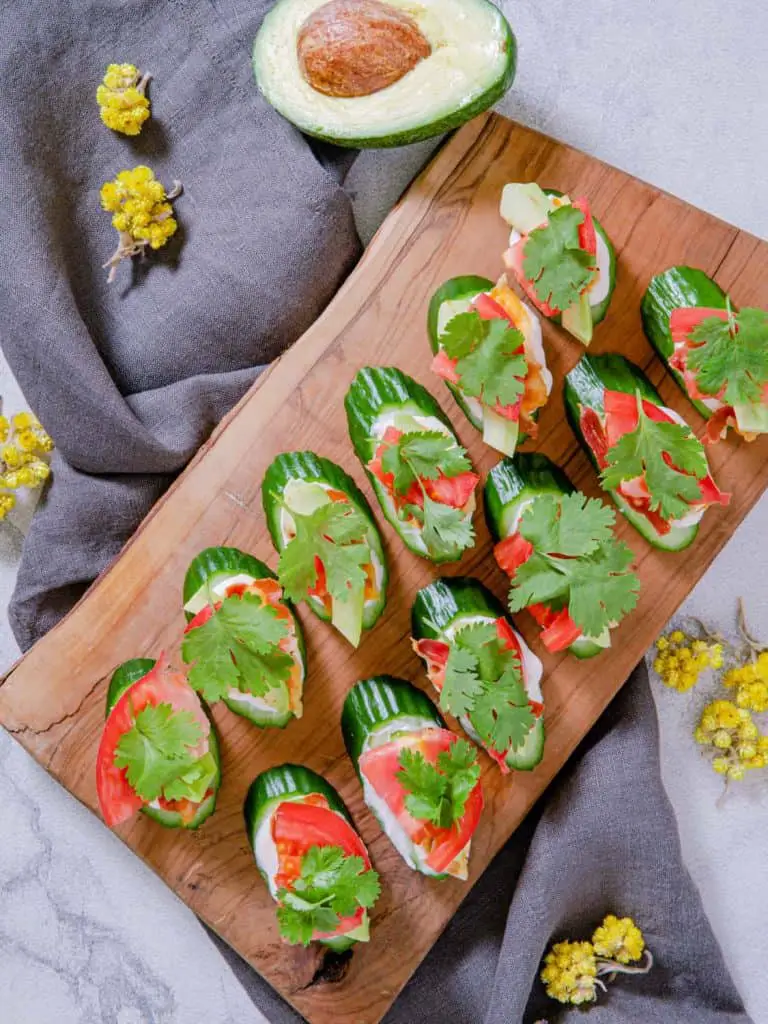 Yield: 4
Ingredients: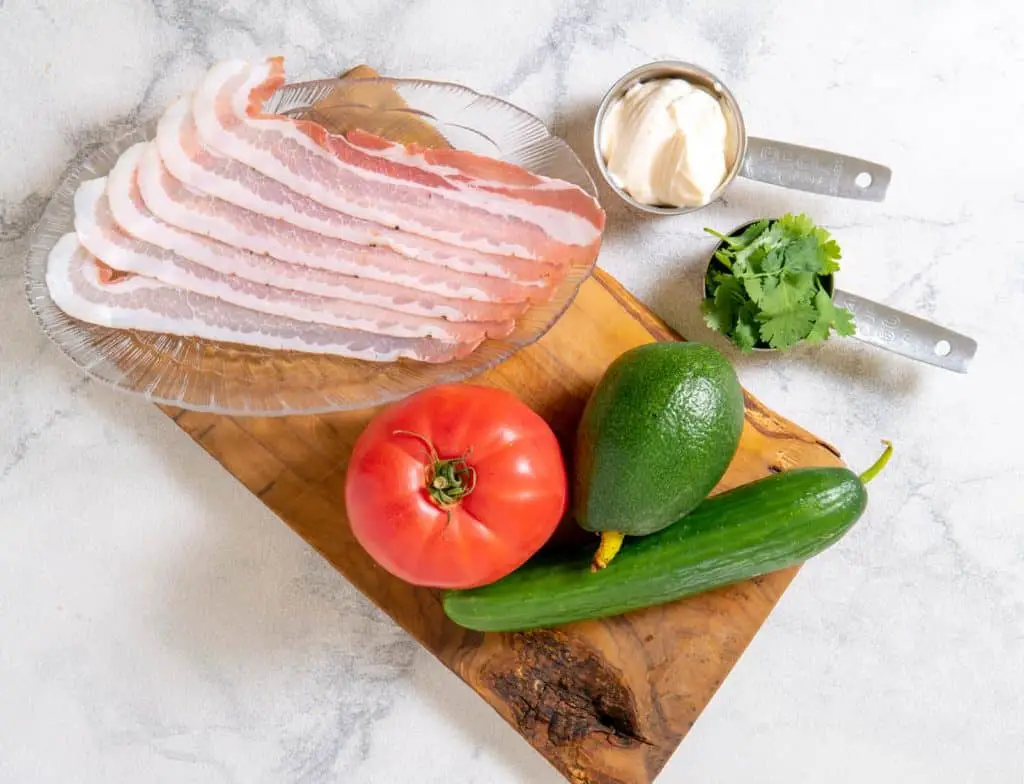 6 slices bacon
1 English cucumber, sliced
4 tbsp mayonnaise
1 large avocado, sliced
1-2 tomatoes, sliced and cut into portions to fit cucumber slices
Cilantro leaves, to taste
Instructions
To cook the bacon, begin by placing the slices in a single layer on a cold, large skillet. Then heat it over medium heat. Once heated, cook the bacon until it is cooked through and crispy; this will take 10-12 minutes. Make sure to flip it occasionally so that both sides. Cook evenly.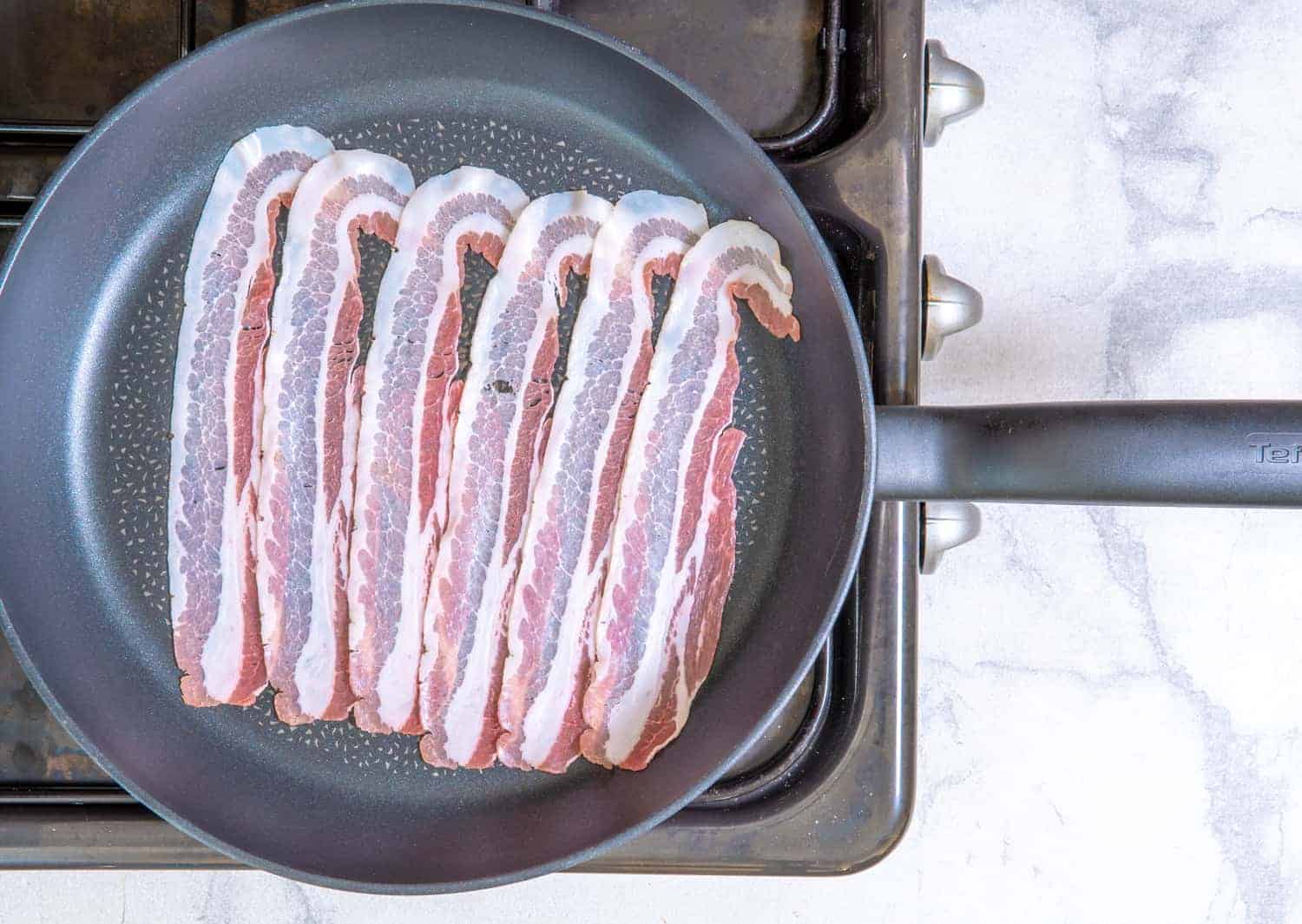 As bacon slices finish cooking, remove from heat and place on a paper towel lined plate to drain. Set aside to cool.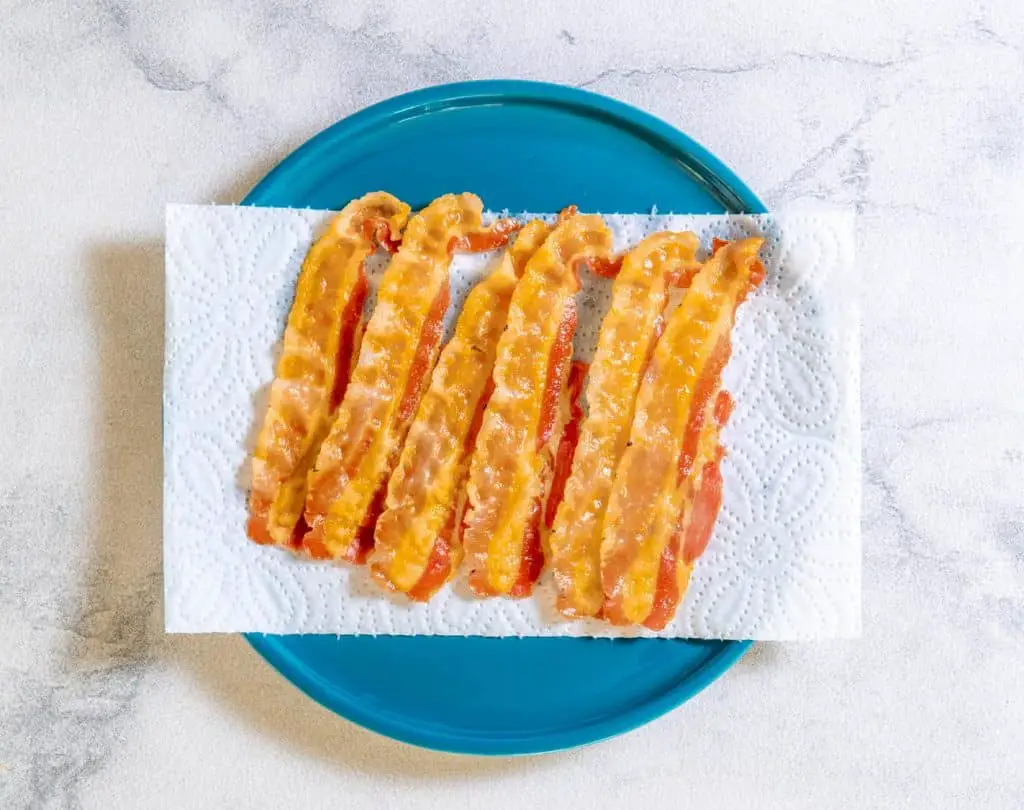 Meanwhile, cut the cucumber into 12 slices at an angle. By the way, I love using this chef knife with ergonomic handle from Imarku.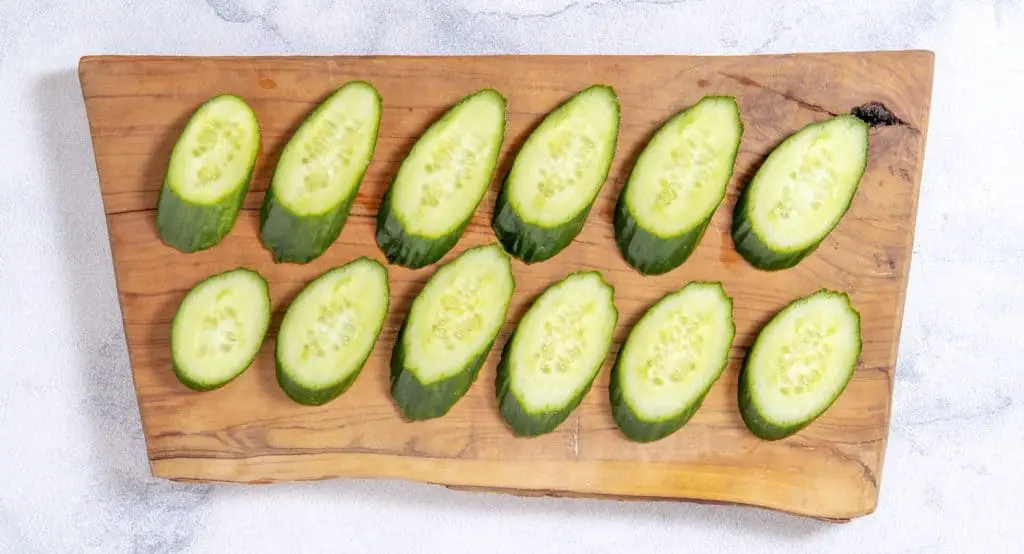 Slice avocado and tomato as well.
 Once the bacon has cooled, cut it into smaller strips.
Assemble BLT bites by spreading each cucumber slice with ½ teaspoon of mayonnaise.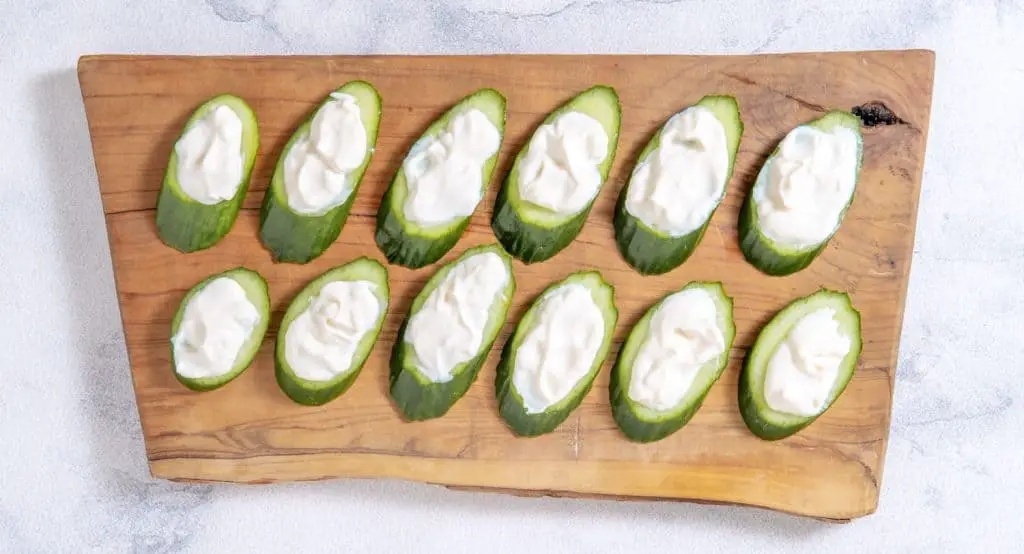 Add a few pieced of bacon and avocado slices. Add avocado slices.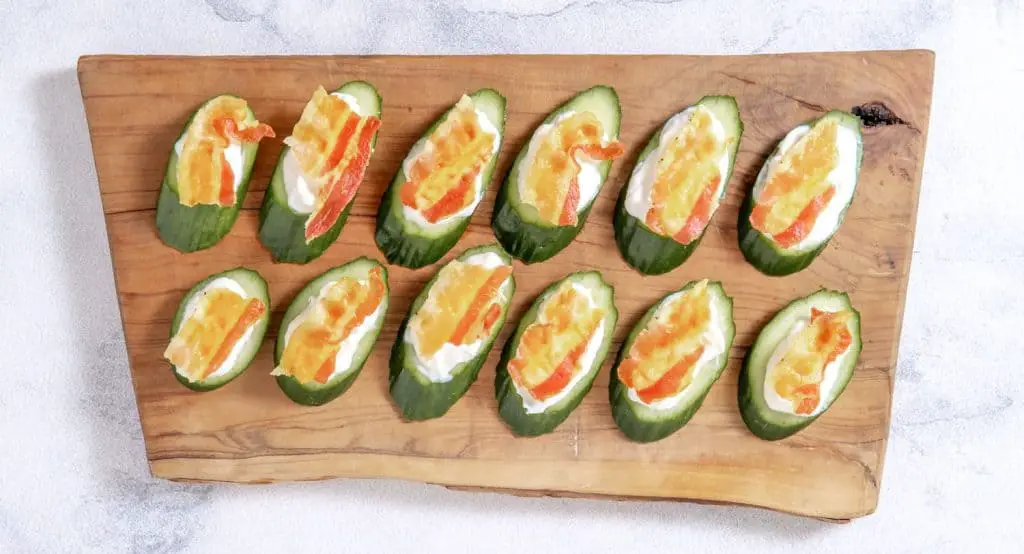 Add tomatoes and cilantro.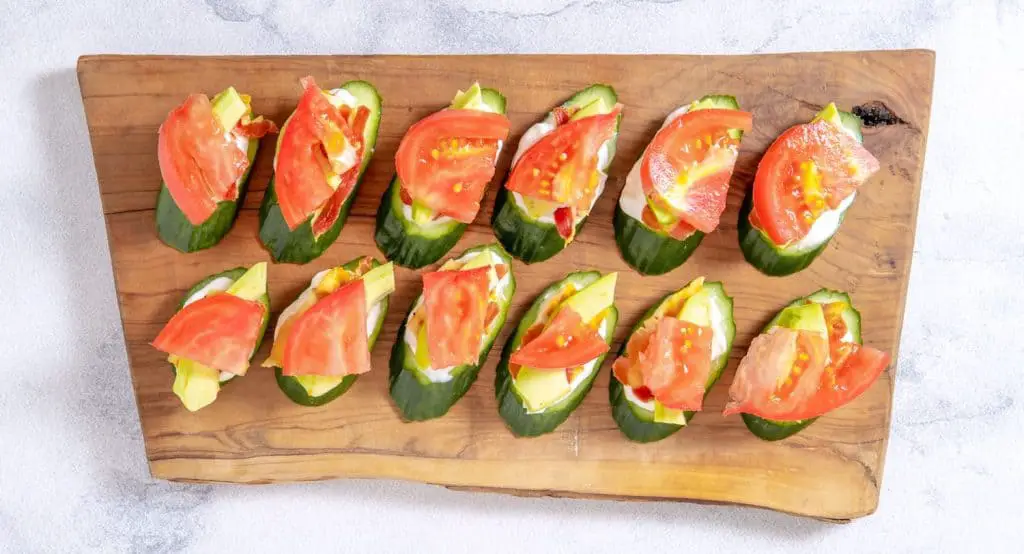 Serve immediately and enjoy!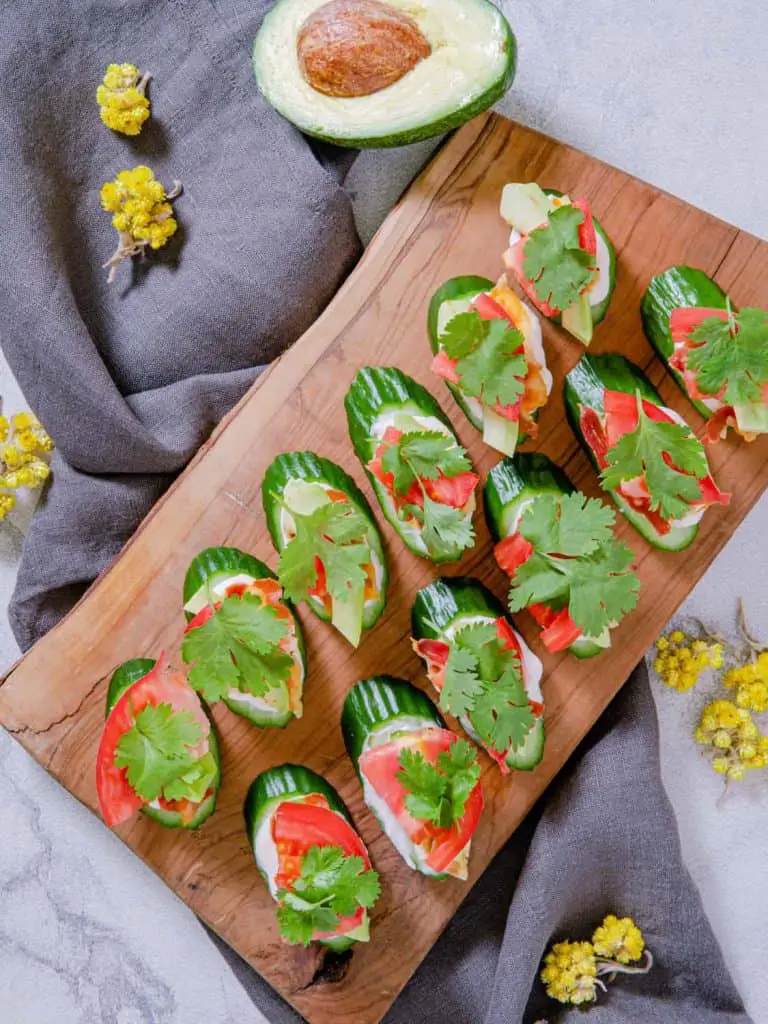 Nutrition
There are:
246 calories,
6 grams of carbs, 2
3 grams of fat, and
16 grams of protein in this recipe.
Easy Peasy Keto BLT Bites
These Keto BLT Bites are sure to become the hit of your next party!
Not only do they look beautiful, they also come together in no time at all. The cucumber slice makes a great crunchy base. They are so light and fresh; you won't miss the bread at all! 
These are great served as an appetizer or enjoyed as a light meal or your low carb snack! These are super easy to customize simply by adding your favorite citrus zest or seasoning to the mayonnaise and then topping with a complimentary herb. For instance, try adding a little lemon zest to the mayonnaise and topping with fresh parsley. You'll be glad you did.
Print Recipe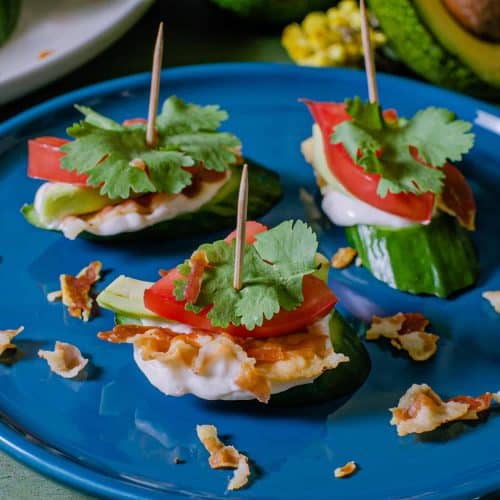 Ingredients
6

slices

bacon

1

medium

English cucumber

6

tbsp

mayonnaise

1

large

avocado

sliced

1-2

medium

tomatoes

sliced and cut into portions to fit cucumber slices

¼

cup

cilantro

chopped
Instructions
1.   Place bacon slices in a single layer in a cold, large skillet.  Heat over medium heat.

2. Cook bacon, flipping as needed, until cooked through and crispy 10-12 minutes.

3.  As bacon slices finish cooking, remove from heat and place on a paper towel lined plate to drain. Set aside to cool. Once the bacon is cooled, break into smaller strips.

4. Meanwhile, slice cucumber at an angle into 12 slices. Also slice avocado and tomato.

5. Assemble BLT bites by spreading each cucumber slice with ½ teaspoon of mayo.

6. Add a few piece of bacon and avocado slices.

8. Garnish with cilantro.

9. Serve immediately. Enjoy!
Video
Notes
Nutritional Information: *
Calories:  252
Fat: 23.5g
Protein: 6.1g
Carbs/Serving:
Total Carbs: 5.3g
Fiber: 3g
Net Carbs: 2.3
*Source: HappyForks.com recipe analyzer.
Nutritional information provided for entertainment purposes only and is not to be construed as medical advice.
Storage instructions
If you want to make sure your Keto BLT Bites stays fresh and delicious, follow these simple storage instructions.
Store in an airtight container in the refrigerator for up to 3 days. Separate the ingredients and only assemble them when you are ready to eat.
Personally, I like eating my BLT bites freshly made because it only takes 10 minutes of prep time and an additional 10 for cooking and assembly. But if you have leftovers, I recommend storing the ingredients separately in airtight containers, so they don't get soggy or lose their flavor.
Conclusion
Overall, these Keto BLT Bites are a delicious and healthy snack that is perfect for anyone looking to stick to their keto diet while satisfying their cravings for something savory and delicious. Whether you prefer freshly made bites or leftovers stored in the fridge, these bites are sure to be a hit with everyone!
So what are you waiting for? Try out this recipe today and let us know how it goes. 🙂
How many carbs in a serving of keto BLT bites?
There are 6 grams of carbs in a serving of keto BLT bites.
What are some good substitutes for bacon, mayonnaise, and avocados?
Some good substitutes for bacon would be turkey bacon or other types of low-carb meat. For mayonnaise, you can try using Japanese mayo, which is lower in net carbs. Avocados can be substituted with zucchini or a variety of other low-carb vegetables and fruits such as bell pepper or pineapple (depending on your preferences).
Are these keto BLT bites easy to make?
Yes, these keto BLT bites are very easy to make. They only require 10 minutes of prep time and 10 minutes of cooking time, making them the perfect snack for anyone looking for a quick and healthy meal on the go. Just make sure to follow the recipe carefully and store any leftovers properly so
Are there any tips for making these Keto BLT Bites even tastier?
One tip for making these Keto BLT Bites tastier is to roast the tomatoes prior to adding them to the recipe. This adds a nice sweetness and depth of flavor that pairs perfectly with the savory bacon and creamy avocado. Another tip is to experiment with different flavors, such as swapping the cilantro for basil, jalapeno, or dill depending on your personal preferences. Additionally, you can use lettuce as a wrap.
Bibb and romaine are great options for a crunchier texture, while iceberg works well if you prefer a softer bite. Overall, there are many ways that you can customize this recipe to make it even more delicious!
What if I don't like cucumber?
If you don't like cucumber, you can try using a different low-carb vegetable or fruit in this recipe instead. Zucchini, bell pepper, and pineapple are all great options that will still give you the sweet and savory flavors of the original BLT bites. Alternatively, you could simply leave out the vegetables altogether and enjoy your Keto BLT Bites as is. However you choose to modify this recipe to suit your tastes, it is sure to be delicious!
Can these be made into a meal?
Yes, these Keto BLT Bites can be made into a meal by simply doubling or tripling the recipe depending on how many people you are feeding. You could also serve them with a side salad or some pan-fried zucchini for an extra dose of veggies and nutrients. Alternatively, you could try adding some protein to make it more filling, such as shredded chicken or chopped hard-boiled eggs. The options are endless, so feel free to experiment and find your perfect combination!
My Keto Snack Essentials
& 
 ChocZero's Keto Strawberry Jam Preserves

 Lakanto Sugar Free Pumpkin Spice Muffin and Bread Mix

 Quest Nutrition Chocolate Chip Protein Cookie

 ChocZero Keto Milk Chocolate Hazelnut Spread

 NuTrail™ – Keto Glazed Nuts Snack – Delicious Healthy Nut Mix