5 Ways To Deal With Chronic Pain during The Holidays
Last Updated on August 9, 2020 by Paula
Do you want to deal with chronic pain during the holidays?
Holidays are supposed to be fun times, right?
You don't want to be a killjoy and beg off many fun activities just because you're in pain.
You won't want, however, to pretend to be having fun while you are in pain.
Dealing with chronic pain is especially hard during the holidays.
Here are some tips on how to deal with chronic pain: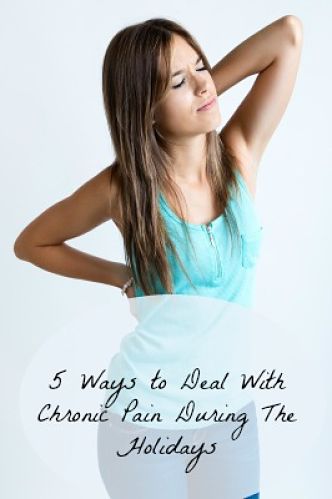 1.  TRAVEL SMART.
Managing chronic pain especially on the back can be extremely difficult when you are travelling and had to be crammed into a tiny space for hours.  The key is to always find a way to stretch and move around.  If you are in a plane traveling to Houston pain management is possible if you get a seat by the aisle. You will have an easier time to stand and do some stretching.
If you are travelling by car, go for frequent stops, that way you can have a chance to move around and stretch your sore muscles.
2.  EAT A BALANCED DIET.
The holidays give you an excuse to forget your diet and eat more.  To prevent chronic pain, be mindful of what you eat.
Carbohydrates, especially from sweets and junk food, are delicious, I know, but that is not an excuse to eat more since this type of food can make you hungrier and more sleepy.
Always have healthy nuts available in plastic packs so that when you crave for sweets, you will reach out for your healthy pack instead.
3. EXERCISE
Most of us go lax on our gym routine when the Holidays kick in.
Don't.
Making time to do some exercise can do you a whole lot of good for managing your pain.
4.  DON'T FORGET TO TAKE YOUR MEDICATION.
If you are taking medications for you pain, don't forget to take them.  The holidays can frazzle you, making you forget your daily routine, but don't ever forget your meds.
5. REST AND SLEEP.
Resting and sleeping can restore you, making you wake up and refreshed with less body pain.  Try to get your rest and
sleep this holiday season.
Do you have other tips for dealing with pain during the holidays? Leave a comment below! I would love to read about
them!