Get Fit while Having Fun With Zumba!
Last Updated on August 28, 2020 by Paula
Mambo, salsa, samba, cha cha.
Just some of those Latin dance forms that have taken the world by storm in the past decades (and some of the "Modern Dances" we have to do in my college Phys. Ed. class).
In recent years came Zumba.  With over 20,000 instructors in various countries around the world, it is an understatement to say that this new dance craze is creating a global stir
With its slow and fast rhythms, Zumba combines South American and Carribean musical styles like salsa, mambo, merengue, samba, chacha, tango, among others.  There are hints of belly dancing and hiphop music as well.  Indeed, the world's newest dance craze provides a unique atmosphere perfect for letting your hair down.
I love doing the Zumba.  It does not make my heart beat so fast like my circuit trainings, but it does make me smile even while I huff and groove and jive to the Zumba beats.
Zumba is  a feel-happy workout.  You won't even feel like you are working out because you are having so much fun.  I personally can do it for hours if I can (just kidding)!  And oh, it is best if you go to a Zumba class.  It is like a party!  I have tried doing Zumba on my own (using Beto Perez' DVD and XBox Kinect's Zumba Fitness), but it is never the same.
Zumba Origins
Call it serendipity or happy accident, but Zumba began in the 1990s in Colombia.
Aerobics teacher Alberto "Beto" Perez was on his way to class one day when he realized he forgot his aerobics tapes.  Instead of driving all the way back to the house to get them, he settled with the tapes he kept in his car, consisting of his Latin and merengue music.  He brought them to class and improvised steps for his students.  Surprisingly enough, the idea grew and became a huge success.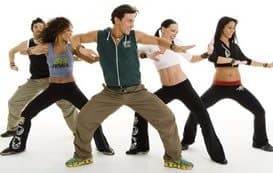 Health Wonders of Zumba
Zumba is a high-energy and very effective cardio workout that provides resistance training.  Simply by just grooving to the Latin beats for an hour, you can lose up to 800 calories.  You can also tone your muscles, improve your posture and yes, finally have those six-pack abs (mine has been hiding in years under a big fat blob!)!
The best thing about it?  Zumba practically lifts your spirits and well-being.  It makes you smile, melts your worries, and gives you a more rockin' positive attitude.
Healthy Heart, Happy Disposition, Fierce Fit Bod?  You can have all of this!  Go Zumba!