What is Carb Cycling on the Keto Diet?
Last Updated on July 10, 2018 by Paula
Can You Do Carb Cycling on the Keto Diet?
As you probably know, the ketogenic, or keto diet, requires you to follow an extremely low-carb diet.
Your maximum intake is usually 20 net carbs a day.
Some people can remain in ketosis with as little as 50 net carbs a day.
But there are people (like me) who, no matter how hard they try, still crave for carbs (and oh, yeah, must be because of those pesky hormones especially when it is the time of the month!)
One of the things people do when on lazy keto (like, not-strict-but-kind-of-laid-back-keto), is they do "cheat days."
Cheat days are days (usually one a week) when you eat what you want.
(I try to avoid doing cheat days, honestly, because cheat days can turn into "cheat everydays"!)
So, I do carb cycling!
Carb-cycling on the keto diet is where you have some days where you increase your carbohydrates a small amount, then go back to the lower carb days for the rest of the week.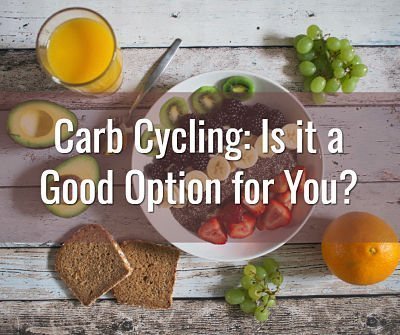 Why You Might Want to Try Carb Cycling when on the Keto Diet.
[content-egg module=Amazon template=grid]
Carb cycling benefits are limitless!  Aside from giving in to your occasional craving – and believe me, you wouldn't believe how heavenly it is to take a bite of my cheesecake – take note, I said bite – singular – not bites, carb cycling helps you with your mindset.
Carb cycling on keto diet makes you re-focus and opens up plenty of food options available for you.  For instance, if you are like me who struggles with those 20 net carbs a day and really – as in REALLY – miss the extra fruit and other healthier carbs, carb cycling on a keto diet will be perfect for you!
Every few days or so, you can enjoy a little more carbs and eat some of your favorite healthy foods that are not keto because!  Eventually, you are going right back into ketosis on the lower carb days.
If you are a beginner in keto, I advise that you do not do carb cycling just yet.  You are still not keto adapted and that one bite of carb can turn into countless bites. If you are really craving for something sweet, make sure you are using these Keto Basics from Tasteaholics which I love:
My Keto Basics:
&
 So Nourished Powdered Erythritol Sweetener (1 lb/16 oz) – Perfect for Diabetics and Low Carb Dieters – Confectioners – No Calorie Sweetener, Non-GMO, Natural Sugar Substitute

 Granular Monk Fruit + Erythritol Sweetener (1 lb/16 oz) – Perfect for Diabetics and Low Carb Dieters – 1:1 Sugar Replacement – No Calorie Sweetener, Non-GMO, Natural Sugar Substitute

 Urine Ketone Strips – Ketosis Strips & Diabetic Test Strips. Ketosis Test with Keto Strips Kit Takes Only 15 Seconds! 100 Keto Sticks.

 Hand Held Spiralizer Vegetable Slicer – Zoodle Maker – Veggie Spiral Cutter – FREE 10 Spiralizer Recipes PDF – Make Healthy Low Carb/Paleo/Gluten-free Noodles

Carb cycling on a keto diet is also good for those few people (which unfortunately always includes me!) who keep hitting plateaus.  If you confuse your body every few days with different carb and calorie amounts, it is easier to get out of those annoying weight stalls!
What to Be Careful of when Carb Cycling on a Keto Diet.
Carb cycling is a great idea, but there are also some challenges.
The first challenge is that carb cylcling can be used as an excuse to binge.  This can lead to sugar and high carb cravings, totally derailing your previous efforts.  This makes it even harder to get back to the 20 net carbs that you can consume the following day.
It is best that you start slow, only going for the healthiest higher-carb foods on a carb-up day.
How to do Carb Cycling
I know! Being Pinoy means rice is life, but would you consider bacon and butter for a bit (or for a lifetime)? GET YOUR FREE BACON AND BUTTER COOKBOOK HERE!
The way you do carb cycling is really up to you and how your body reacts.  Some people might do a carb-up day every 3-4 days, while others like to do them once a week or even every two weeks. If you are doing good on your keto diet and haven't hit plateaus or struggled with cravings, try just every two weeks. Then if you have a week where you are craving something else, don't stress and have a carb up day.
Tips for Success on Carb Cycling on a Keto Diet
To help the carb cycling option work for you, you should not do the first carb-up day until you have been in ketosis for about a month. This is a good amount of time to get used to this way of eating before you increase your carbs. At that point, carb-up slowly, going up to maybe 50 net carbs, then gradually higher if it doesn't affect you too much.
Take it slow and keep close track of what you eat.
To learn more about carb cycling, watch this:
[content-egg module=Youtube]