Can You Drink Alcohol While on Keto?
Last Updated on July 9, 2018 by Paula
Yes, you can drink alcohol while on Keto.  All you need is to follow these guidelines.
After being on keto for a while, there may come a time when you want to go to happy hour with co-workers or enjoy a cocktail with friends or family.
Remember those days when you bring your own lunch (keto certified, of course! I get ideas from Tasteaholic's Weekly Keto Meal Plans ) and avoid your friends after office hours?
I am practically a hermit!  Eventually, you need to go back to the social scene.
And while this isn't something you should do all the time, you can still have alcohol and follow the ketogenic lifestyle.
You can drink alcohol while on keto!
Here is the main rule.  You need to know how many carbs are in alcoholi beverages!
Here are some things to know about drinking alcohol while on keto.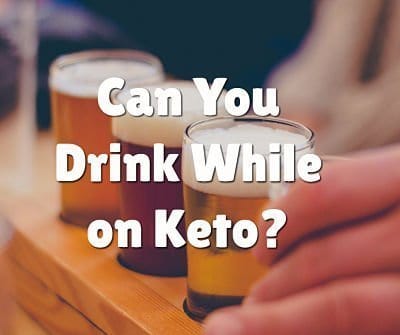 Stick to the Clear Liquors
The first thing you should do if you want to have alcohol while on keto is to choose your liquor. This does tend to be better than other alcohol as far as the carbs and calories go. Your liquor needs to be clear.  Clear liquor tends to be lower in carbs, that is, if you don't mix anything with them (kind of like how black coffee turns evil when you mix all the cream and sugar and sweetened whipped cream on it).
It is often what you mix liquor with that increases the carbs and other macros, so try to have it straight, or combined just with water. Some good clear liquors to try are rum, tequila, gin, and vodka. Some colored liquors are okay, but in lesser quantities, like dark rum or whiskey.
Stick to White Wine
As far as wine goes, the amount you have determines whether or not it will fit in your keto diet. Most wines average around 3-3.5 carbs per serving.  Over all, though, white wines do tend to be lower in carbs overall. Sauvignon blanc is the wine with the least amount of carbs, with 2.7 carbs per glass. Other white wines that are good options are pinot grigio, champagne, and chardonnay.
Stay away from Riesling, which is sweet and is over 5 carbs per glass.
For red wines, the best ones are pinot noir and merlot.
Light Beer Occasionally
If you are more of a beer fan, you can still have beer, but like anything on keto, you need to know the carb count and make sure you are tracking it. It is a better idea to plan on when you will have beer, so that you eat mostly low carb foods for the rest of the day.
Many light beers will have about 3-5 net carbs beer can or bottle, so it can add up fast when you are only allotted 20 carbs in the entire day.
This is why tracking your net carbs while on keto is so important. You can have a drink too many…You won't just have a gigantic headache.  Imagine those carbs getting scored in your belly.
Scary, huh?
My Keto Basics:
&
 So Nourished Powdered Erythritol Sweetener (1 lb/16 oz) – Perfect for Diabetics and Low Carb Dieters – Confectioners – No Calorie Sweetener, Non-GMO, Natural Sugar Substitute

 Granular Monk Fruit + Erythritol Sweetener (1 lb/16 oz) – Perfect for Diabetics and Low Carb Dieters – 1:1 Sugar Replacement – No Calorie Sweetener, Non-GMO, Natural Sugar Substitute

 Urine Ketone Strips – Ketosis Strips & Diabetic Test Strips. Ketosis Test with Keto Strips Kit Takes Only 15 Seconds! 100 Keto Sticks.

 Hand Held Spiralizer Vegetable Slicer – Zoodle Maker – Veggie Spiral Cutter – FREE 10 Spiralizer Recipes PDF – Make Healthy Low Carb/Paleo/Gluten-free Noodles