Flour Alternatives For Baking When Doing Keto
Last Updated on February 23, 2018 by Paula
Are there flour alternatives for baking when doing keto?
Because I sure can't shake this out of my keto mind!
Well, YAYYY for us baked goodie lovers because if you want to do some baking while on keto, YES , YOU STILL CAN!
A lot of my friends intending to do keto think that all baked goods and breaded fried foods are out, but that is not entirely true.
While you won't be making these goods the same way you used to, there are certainly some alternatives that you can use if you are on a low-carb, high-fat diet like keto.
Here are some alternatives to flour when baking while on keto: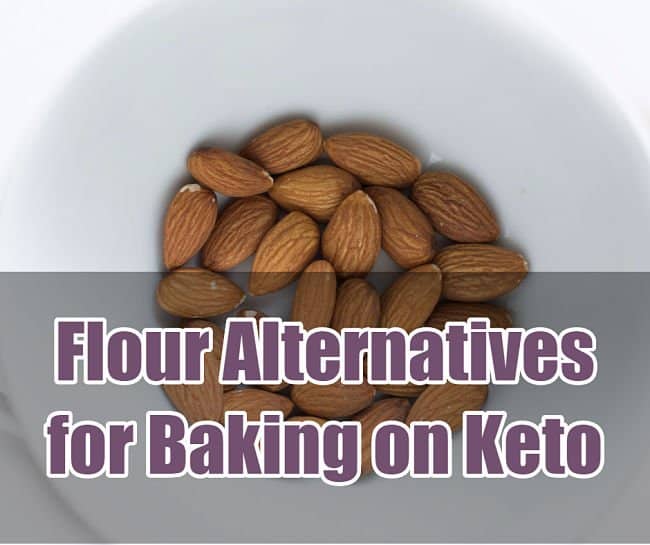 Coconut Flour
One of the flours that is a good low-carb alternative to traditional flour is coconut flour.
Most ketogenic diet peeps I know prefer this to almond flour.
I prefer coconut flour, especially this Organic Coconut Flour by Anthony's which is verified gluten-free and non-GMO. Why? Because aside from  being high in protein and fiber, this has low moisture content which is perfect when baking cookies, breads, and cakes.  Plus, this awesome coconut flour is sourced from the finest coconuts in our own Philippine Islands! So! You know this is good! Totally!
My favorite Coconut Flour Products:
&
 Organic Coconut Flour (4 lb) by Anthony's, Verified Gluten-Free, Non-GMOGet More Info BetterBody Foods Organic Coconut Flour — A Naturally Gluten-Free White Flour Alternative With A Slight Coconut Taste and Aroma, 23% Dietary Fiber per Serving, 2.25 PoundsGet More Info Organic Coconut Flour 1.16 lb, w/ Gluten Free Recipe E- Book, Best Low Carb Flour, Fine, Raw, Premium Grade, Paleo Friendly Non-GMO CertifiedGet More Info Bob's Red Mill Organic Coconut Flour, 16 ozGet More Info
Some peeps like almond flour better.  So I guess you should try both and find which works best for you.
(I just happen to live in a country with lots of coconuts on the beach so I am biased hehe)
As you know, coconut is one of the major ingredients used in keto recipes, from coconut oil to milk, so why not make coconut flour as well.
Coconut flour is made from dried coconut flesh that is then milled and ground extremely fine into a flour.
A little goes a long way, though, so keep this in mind if you are cooking or baking with it. About a quarter of a cup of coconut flour is 6 grams of carbs, but it also has 10 grams of fiber, which makes coconut flour a great choice.
Almond Flour
If you have ever purchased a low-carb baked good, there is a good chance it was made with almond flour.
Almond flour is finely ground, processed from blanched almonds.
This is done by removing the skin first, then turning it into a finely-ground flour that you could use for your baked goodies.
Almond flour has more protein and fiber than white and wheat flour which makes it a VERY HEALTHY OPTION.  Plus, oh, you can count on the added benefits of very important nutrients like potassium and magnesium that you need especially when you are on a strict diet like keto.
Compared with the coconut flour, you get half the amount of net carbs of almond flour.  However, some people have problems digesting almond flour, so that is something to keep in mind when deciding between almond and coconut flour.
Both almond flour and coconut flour need to be refrigerated since it can go bad much more quickly than regular flour.  Considering the processing the flour went through, this is expected.
Other flour alternatives
If coconut and almond flour do not work for you, you can also use ground seeds as your flour option.
Seriously???
Yup.  You can use sunflower seeds.  In fact, some of the newer packaged low-carb baked goods are using sunflower seeds and are amazingly healthy and yummy.
Sometimes it is just a matter of experimenting and finding out which flour alternative really works good on you.